Greer's Blog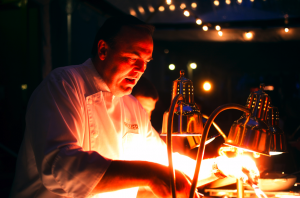 Chef Charlie Palmer 8th Annual Pigs and Pinot Chef and Winemaker Lineup
01.15.13
Celebrated chefs and winemakers will work alongside Chef Charlie Palmer at the epicurean feast, the 8th Annual Pigs and Pinot Weekend http://www.pigsandpinot.com  kicking off on March 22 in Healdsburg to benefit Benefit for Share Our Strength, No Kid Hungry campaign to end childhood hunger in America, as well as local Sonoma County scholarships and charities.
The award-winning Hotel Healdsburg and its acclaimed restaurant, Dry Creek Kitchen play host to the event, and its eco-chic sister property h2hotel, just one block from Hotel Healdsburg, will also have a special Pigs & Pinot package and inspired dinner.
The charitable event sells out each year and is a coveted experience for pork and wine enthusiasts who look forward to the 20 chefs and 60 wineries who will be showcasing their talents.
This year's participating pork experts include: Chef/Owner Elizabeth Falkner of Krescendo, in Brooklyn; Chef/Partner Dean Fearing of Fearing's Restaurant in Dallas; Chef/Owner Jose Garces of Garces Restaurant Group and Food Network Iron Chef; and Chef/Owner Craig Stoll of Delfina Restaurant Group in San Francisco. Featured pinot pros include Brian Maloney of De Loach Vineyards; Caroline Parent of Domaine A.F. Gros, Michael Browne, of Kosta Browne; Lee Martinelli of Martinelli Winery; and Victor Gallegos of Sea Smoke. Celebrity comedian and actor Mario Cantone will serve as emcee and judge of the event.

The weekend itinerary starts Friday, March 22 from 6:30 to 9 p.m. at Taste of Pigs & Pinot at the Hotel Healdsburg. Guest can sample 60 highly-acclaimed Pinot Noir wines vying for the coup de grâce , the Pinot Cup. These hand-picked wines face a distinguished judging panel in a blind tasting and the winner and runner-up of the prestigious Pinot Cup will be named at the end of the evening. With the wines, enjoy a variety of pork dishes, including homemade sausages, charcuterie, grilled pork, patés and other creations from Chef Palmer and Dry Creek Kitchen Chef de Cuisine Dustin Valette, guest chefs and local Healdsburg restaurants.

On Saturday, March 23 from 10:30 a.m.-12:30 p.m., it's the Tournament of the Pig, where Pigs & Pinot guest chefs will be divided into two talent-packed teams. The iron-chef style competition hosted by Charlie Palmer and Mario Cantone will take two teams given a whole pig to create two distinct dishes with ingredients they can find at Dry Creek Kitchen. A pork-loving judging panel will choose the winning team, and the audience can taste, too.

Followed by the competition attend the Ultimate Pinot Smack Down from 1 to 3 p.m.
Master Sommeliers Keith Goldston, Fred Dame, Drew Hendricks, and Michael Jordan will host this exciting March Madness inspired wine seminar. Each Master Sommelier will bring his personal selection of four Pinot Noirs from around the world and proceeds to "sell" his favorites in a pitch contest, which includes blind tastings. The audience picks the winner.

The Pigs & Pinot Gala Dinner begins at 6:30 p.m. with a sumptuous five-course dinner at Hotel Healdsburg's Dry Creek Kitchen. The collaborative dinner features a signature creation from Palmer and his guest chefs including: Elizabeth Falkner, Dean Fearing, Jose Garces and Craig Stoll. Courses will be paired with two limited-production Pinot Noirs from acclaimed wineries including De Loach, Domaine A.F Gros, Kosta Browne, Martinelli and Sea Smoke.

Just a block down from Hotel Healdsburg, Spoonbar's Swine & Wine Dinner will take place at 7 p.m. at h2hotel. Executive Chef Louis Maldonado will cooking alongside some of the Bay Area's most innovative young chefs including David Bazirgan, Fifth Floor's Executive Chef, John Paul Carmona, former Chef de Cuisine of Manresa and Evan Rich of Rich Table. The evening will begin with an artisanal cocktail from Spoonbar's famed mixologist Daniel "Cappy" Sorentino followed by four courses made from a locally raised hog. Dinner will be paired with wines from Sonoma County Pinot Noir producers, Cobb Wines and VML.

Pigs & Pinot Late Night is a late evening celebration following the Gala and Spoonbar's Swine & Wine Dinner with after-dinner drinks and dessert in the Hotel Healdsburg's fireside lounge. All Pigs & Pinot guests can attend.
Tickets to the individual events can be purchased online at http://www.pigsandpinot.com. Taste of Pigs & Pinot tickets cost $175 and Seminar tickets cost $125 each. Pigs & Pinot Late Night is free to all Pigs & Pinot weekend participants.

Hotel Healdsburg and The Spa Hotel Healdsburg are at 25 Matheson Street at the historic Healdsburg Town Square 707.431.2800 or toll free at 800.889.7188. Dry Creek Kitchen is adjacent to the hotel on the Town Square. h2hotel is just down the street at 219 Healdsburg Avenue. 707.922.5251.
---