Greer's Blog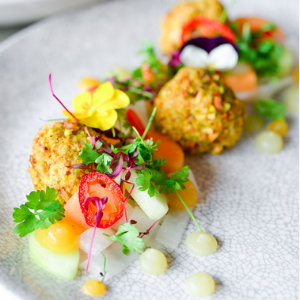 Chef Craig Strong Introduces New Summer Menu at Ocean at Main
05.23.19
Michelin-starred Chef Craig Strong has unveiled a new menu at his Ocean at Main in Laguna Beach. Inspired by his recent travels through Italy, Greece, and Croatia, Strong's new summer dishes mark the first major menu overhaul since the restaurant opened in October.
Recently honored as a Best New Restaurant by Orange Coast Magazine and named among James Beard award-winning critic, Brad A. Johnson's 75 Best Places to Eat, Ocean at Main has made a splash in the heart of Laguna Beach.
Awakening the senses to a summer spent abroad, Strong's new menu delivers the richness of European fare through Spanish chorizo and housemade pasta with a contrast of refreshing seasonal ingredients like English peas, rhubarb, and watermelon. With vibrant, geometric pops of color, Strong's dishes visually resemble the Gaudí-adorned streets of Barcelona where you'll find a convergence of classic technique and modern design.
While staples like Strong's Oxtail Kale Risotto and Roasted Beet Salad remain, Ocean at Main's new summer menu includes the following new dishes:
Crab and Melon Salad - Dungeness crab, vanilla aioli, cantaloupe, honeydew, daikon radish, honey vinaigrette
Watermelon Heirloom Tomato Salad - watermelon, cucumber, tomato, jicama, gazpacho
Summer Cavatelli - cherry tomato, English peas, pea tendrils, brodo, sugar snap peas, chorizo
Corn Ravioli with Lobster - lobster, corn, truffle butter, brown butter crumble, lime cream, lime zest
Halibut - saffron couscous, rhubarb, buttermilk sauce, tarragon oil, asparagus, almond
Scallops - sunchoke, cordycep, kumquat, chicken jus
Lamb Chop and Croquette - lamb, haricot vert, fava bean, maitake mushroom, mustard frill
Grilled Una Salmon - artichokes, squash blossom, fennel salad, bouillabaisse
Charred Garden Pizza - burrata, arugula, fennel, cauliflower, onion, black garlic
Pastry Chef Keara Wilson's new dessert menu featuring dishes like Dulcey Panna Cotta shows off summer strawberries while a vegan Coconut Pavlova gives a taste of the tropics with passion fruit, guava, and coconut.
Open for lunch and dinner daily from 11 a.m. - 10 p.m., and for weekend brunch from 10 a.m. - 3 p.m.
Ocean at Main is in the heart of downtown Laguna Beach is at 222 Ocean Ave.
Photos courtesy Outshine PR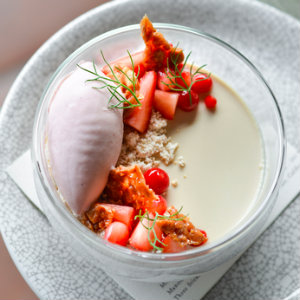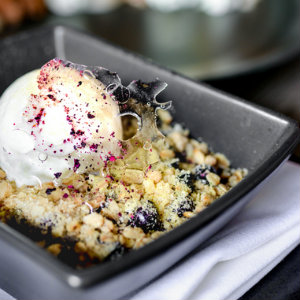 ---