Greer's Blog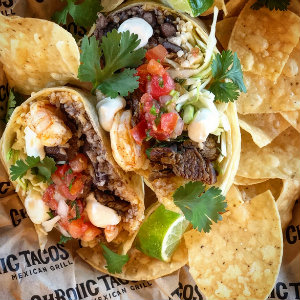 Chronic Tacos Adds Premium Grass-Fed Premium Carne Asada
12.10.18
Chronic Tacos just upped its taco game by adding all new Grass-Fed premium Carne Asada to its menu offerings. Now when you're building your own tacos, burritos, and even Chronic Nachos, ask for high-quality Grass-Fed beef. The steak is extra tasty thanks to a secret marinade for 24 hours, then its seared and seasoned on the open grill, allowing for the boldest flavor.
Chronic Tacos serves only the highest quality ingredients and all-natural meats. They offer a wide variety of traditional Mexican items including tacos, burritos, bowl-ritos and more! The menu also features kid's meals and a breakfast menu available all day. Choose from vegetarian and gluten-free options, as well as choices of: Carne Asada, Carnitas, Al Pastor, Pollo Asado and variations of fish or shrimp. There is something for everyone.
At each location, the walls are adorned with original artistic designs inspired by traditional "Day of The Dead" art, creating a unique 'Taco Life' experience.
Chronic Tacos boasts 50 locations across the United States and Canada, as well as a Japan expansion coming soon. In Orange County, you can find Chronic Tacos at these locations:
Angel Stadium of Anaheim at 2000 E Gene Autry Way in Anaheim.
3601 E. Pacific Coast Hwy. in Corona Del Mar. 949.675.2574
1460 Baker St. in Costa Mesa. 714.668.9021
328 11th St. in Huntington Beach. 714.465.9249
7621 Edinger Ave., Unit #106 in Huntington Beach. 714.890.6100
5365 Alton Pkwy, Ste D in Irvine. 949.653.8226
14435 Culver Dr. in Irvine. 949.679.4027
28241 Crown Valley Parkway, Suite C, in Laguna Niguel. 949.273.3184
4533 W. Pacific Coast Hwy. in Newport Beach. 949.642.2458
1120 Irvine Ave. in Newport Beach. 949.645.8226
7520 E Chapman Ave. in Orange. 714.639.9826
415 E Avenida Pico in San Clemente. 949.492.8437
Coming Soon 18503 Suite B Yorba Linda Blvd. in Yorba Linda.

---