Greer's Blog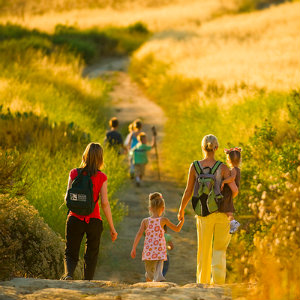 experience the blooms of wildflower season
04.02.18
Connect with the local lands and spot blooming wildflowers on the Irvine Ranch Natural Landmarks by registering for programs in the City of Irvine, City of Newport Beach, and OC Parks. All programs on the Landmarks are free with required pre-registration, which closes 4 p.m. the day prior to each activity. Minors must be accompanied by a parent or adult guardian. You can click the activities below to register for a free program and experience the blooms of wildflower season.
It's Harvest Time! Collect Wildflower Seeds at the Native Seed Farm is a reoccurring program at the Native Seed Farm. Volunteers can give back to the land and harvest native spring flowers like California Poppies and Arroyo Lupines. Children as young as 8 years old can take this opportunity to help nurture and restore the wildlands within the Landmarks.
The Self-Paced Fitness Hike on Hicks Haul Road is a reoccurring program where fitness enthusiasts can enjoy a walk, jog, or run to scenic Loma Ridge. Every Thursday from 6 – 7:30 p.m., participants and their families can spot California Poppies, Bush Mallows, and Paint Brushes while enjoying the beautiful vistas of Loma Ridge at dusk.
Wilderness Access Day: Limestone Canyon on Saturday, April 7 from 8 a.m. to 2 p.m. invites hikers, bikers, and equestrians, to start their weekend off in OC Parks' Limestone Canyon Nature Preserve. Visitors can explore over 15 miles of open space at their own pace and enjoy the sights and smells of wildflowers along the way.
Mid Week Hike: Quail Hill on Wednesday, April 11 from 8 a.m. – 1 p.m. in the City of Irvine's scenic Quail Hill allows hikers to enjoy the fresh air, sprawling views, and wildflowers while covering 12 miles of single-track trails. Visitors can use this time on the land to connect with nature in Irvine's beautiful Southern Preserve.
Mid-Week Hike: Agua Chinon and The Sinks on Wednesday, April 25 from 8 a.m. – 1 p.m. encourages hikers to recharge their batteries during a refreshing mid-week hike through the Agua Chinon Wash in OC Parks' Limestone Canyon Nature Preserve where they can spot California Poppies, School Bells, and Lupine.
Shhh…Hike, Look and Listen on April 26 from 5 – 7 p.m. in OC Parks' Baker Canyon in Black Star Canyon Wilderness Park encourages visitors to take a slow and tranquil stroll through the open space while learning about the canyon and its plant life and wildlife.
Irvine Ranch Conservancy offers free, docent-led, and self-guided programs that include hiking, mountain bike rides, horseback riding, habitat restoration and special events for nature enthusiasts of all ages and fitness skill levels. For more information on activities or to register visit LetsGoOutside.org/activities.
---