Greer's Blog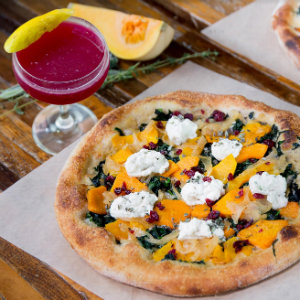 Fall at True Food Kitchen
11.08.18
True Food Kitchen at Fashion Island in Newport Beach recently launched its new seasonal fall menu dishes that feature ingredients with natural health benefits based on the principals of Dr. Andrew Weil's anti-inflammatory diet. Many of the items are gluten free, vegetarian and vegan as noted below.

At lunch and dinner you can enjoy a Roasted Brussels Sprouts with Asian mushroom, miso sesame vinaigrette, and toasted sesame seed GF, V. There's the refreshing and tasty Chilled Shrimp Lettuce Cups with coconut shrimp, grapefruit, avocado, cucumber, and jalapeño cilantro GF, VEG. We highly recommend the Seasonal Ingredient Salad with brussels sprout, quinoa, roasted butternut squash, horseradish vinaigrette, goat cheese, fresh pomegranate arils, and toasted mulberry VEG, GF. They've added a delicious Butternut Squash Pizza with caramelized onion, organic kale, vegan almond ricotta, dried cranberry V. And anyone who loved ramen will love the Dashi Ramen with sweet potato glass noodle, bok choy, portobello mushroom, charred onion, radish, corn, black bean, sesame chili oil GF, V. One of the best pies you'll ever taste is the Squash Pie with graham crust, coconut whipped cream GF, V. It also makes a great pie for Thanksgiving and holiday celebrations.
And, they've also rolled out new fall seasonal cocktails. You can choose from Lime & Coconut Colada - lime-infused rum, golden falernum, pineapple, cinnamon; Forbidden Root - lemon-infused vodka, apple, red beet, rosemary; the Pomegranate Margarita - organic reposado tequila, apricot, lime, ginger, jalapeño; the Apple Jack - bourbon, cinnamon, lemon; Original Ginger "O.G." - lime, honey, bubbly water; Pressed Apple Soda; and the Cinnamon Vanilla Latte served hot or with cold brew.
Open 11 a.m. to 9 p.m. Monday through Thursday; 11 a.m. to 11 a.m. Friday; 10 a.m. to 10 p.m. Saturday; 10 a.m. to 9 p.m. Sunday. Brunch is served 10 a.m. to 3 p.m. Saturday and Sunday; Happy Hour from 3 to 6 p.m.
451 Newport Center Drive in Newport Beach. 949.644.2400.
---