Greer's Blog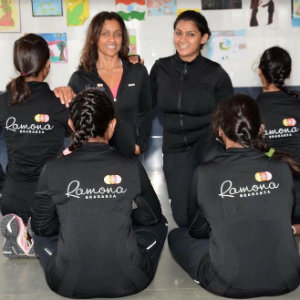 'FITNESS, FOODS, AND FINANCIAL FREEDOM' WELLNESS EVENT
02.06.19
321 Empower, a nonprofit founded by celebrity fitness trainer Ramona Braganza to provide human trafficking survivors with the strength and skills necessary to live healthy and independent lives, will host its first fundraising event on Saturday, February 9. The wellness event focused on food, fitness and financial freedom, will take place from 10 a.m. – 2 p.m. at Seacliff Country Club in Huntington Beach.
Global fitness expert and celebrity trainer Ramona Braganza, whose A-list clientele includes Jessica Alba, Halle Berry, and the cast of "Fifty Shades of Grey," created 321 Empower in 2016 to help survivors of trafficking reclaim ownership of their bodies through fitness and exercise. In India, girls as young as age six are forced into the sex trade. 321 Empower works with Prerana, a Mumbai, India-based organization that rescues girls and places them in safe houses. 321 Empower provides ongoing fitness programs for survivors as well as career development to become certified fitness trainers, thereby enabling them to work and become financially independent when they leave the safe house.
With the support of celebrities such as Dania Ramirez, star of the CBS series "Tell Me A Story" and "Once Upon A Time," and fitness guru Billy Blanks of Tae-Bo fame, the 321 Empower fundraiser will showcase the expertise of leading health and wellness experts including celebrity chef Maureen Brice, and Susan Hattan a financial planner and estate planning attorney.
These experts, along with Ramona Braganza, will share their tips on fitness, financial independence, and proper nutrition. The event will kick off with a keynote address by Dr. Sandra Morgan, Director of the Global Centre for Women and Justice at Vanguard University. Funds raised will support 321 Empower's efforts to help vulnerable children and young women in India who are victims of human trafficking develop the strength to lead healthy and independent lives.
This day of wellness will include a light, healthy meal, special guest appearances, raffles, silent auction, and a gift for each guest. Tickets are $75 per person, or two for $125 and tickets can be purchased online at 321empower.com/events.
---