Greer's Blog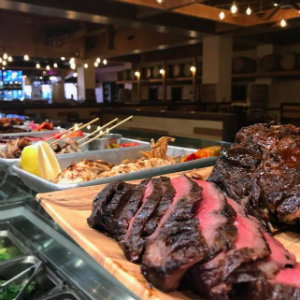 Happy New Year Hoedown
12.26.18
Ring in the New Year at Grasslands Meat Market's Happy New Year Hoedown on Monday, December 31 from 6 p.m. to 1 a.m.
Bring friends and family to experience a country music celebration featuring a gourmet dinner buffet with elevated barbecue offerings like Grilled Lobster Tails and Smoked Beef Tenderloin, an array of seasonal sides, and mouthwatering desserts like Godiva Chocolate Mousse. Then dust off your cowboy boots and get ready to dance the night away to a lineup of three country rock bands, including Sparky & The Ancient Mariner, Gypsy Sound Collective and Christie Huff.
For those looking to get a head start on New Year's Eve celebrations, Grasslands is hosting a Pre-New Year's Party on Saturday, December 29 from 6 p.m.-1 a.m. Kick off 2019 in early-nineties style with a live performance by nineties cover band, The Advancements and enjoy a full buffet of Grasslands favorites including BBQ Shrimp, Ribs, and Steak along with a selection of classic barbecue sides and decadent desserts.
Happy New Year Hoedown: $99; Pre-New Year's Eve Party: $79 *Tax and gratuity not included
To purchase tickets for Grasslands Happy New Year Hoedown and Pre-New Year's Party, please visit Eventbrite.com.
*Free parking available at GardenWalk for the first hour, validation provided for the second hour.
For more information about Grasslands, to make a reservation or to inquire about private parties, call 657.208.1133 or visit grasslandsusa.com/.
Grasslands Meat Market is at BBQ & Churrasco is at 400 West Disney Way, Suite 199, Anaheim.
---