Greer's Blog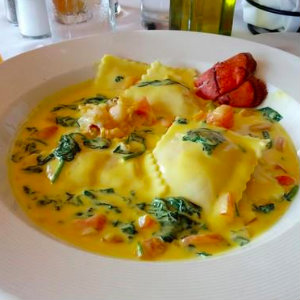 Italian Favorites at Russo's Ristorante | Dine Out Long Beach Restaurant Week
02.23.18
With Dine Out Long Beach Restaurant Week kicking off on Sunday, Feb. 25 through March 3, you'll want to get into Russo's Ristorante, a local Italian favorite eatery on Naples Island for nearly 30 years. The menu features customers' all-time favorites mixed with some great new dishes. And, at just $30 for three-courses, it's an amazing deal. Some of the main courses cost $24.95 alone!
You can choose to dine on the patio or in the warm and cozy dining room. You will be pleasantly surprised at the generous portions and selections. Favorites from the menu include the coconut shrimp appetizer with mango chutney; The Alla Taranto salad with shredded roasted chicken, feta, tri-colored bell peppers, red onion, cucumbers, kalamata olives and fresh herbs; Linguini di Mare with jumbo shrimp, bay shrimp, scallops,calamari, green onions, mushrooms, tomatoes and garlic in a light tomato wine sauce; and the Pollo Piccata with breaded chicken breast topped with a lemon caper sauce served with rosemary potatoes and sautéed vegetables. Save room for their house special Cannoli, that's off the charts delicious.
All entrees come with Fresh Baked Focaccia Bread. They also offer whole wheat capellini or gluten free penne.
For Dine Out Long Beach Restaurant Week, you can enjoy three courses from for just $30, and they are extending the offer through March 8. You can choose an appetizer (Coconut Shrimp, Grilled Artichokes, Bruschetta, Gorgonzola Wedge, or Russo Delight); entrée (San Marco Linguini Di Mare, Salmon Palermo, Pollo Piccatta, Sicilian Walk Viola, Rib Eye Steak 8 oz.); and a dessert (Crème Brulee, Tiramisu, Chocolate Lovers 3 Layer Cake, House Special Cannoli).
Open 5 p.m. to 9:30 p.m. Monday to Thursday; 5 p.m. to 10:30 p.m. Friday and Saturday; 3 to 9 p.m. Sunday.
5856 E. Naples Plaza in Long Beach. 562.433.1616.
---