Greer's Blog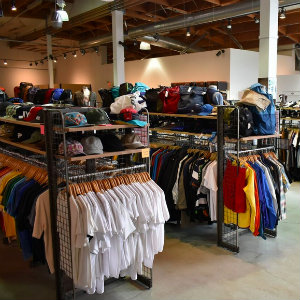 Japan's Popular Second-Hand Boutique in OC
07.20.18
Get lost in eclectic fashion finds at the new 2nd STREET, a Japanese retail chain that offers an elevated second-hand shopping experience and curated collection of vintage and gently-worn accessories and clothing. It just opened its first Orange County location at the Camp.
Along with more than 500 stores in Japan, 2nd STREET recently opened locations on Melrose Avenue in Los Angeles and Old Town Pasadena on Colorado Boulevard, both of which have quickly become fashion hotspots for trend seekers.
Founded in Japan in 1996, 2nd STREET has been helping style-setters embrace their individuality with a diverse inventory of "one of a find" items in a highly organized, clean environment atypical of traditional second-hand stores.
Inspired by the "culture of caring" and unique approach to Japanese hospitality referred to as "Omotenashi," 2nd STREET promises to raise the bar for second-hand shoppers by upholding extremely high customer service standards and offering incredible prices on premium condition designer clothing and accessories.
With the guidance of in-house stylists in each store, customers can achieve coveted high fashion and effortless chic looks that are entirely their own, all without the hefty price tag. Shoppers will love mixing and matching pre-loved designer items from Japanese, American and European fashion houses with high-quality pieces from popular everyday brands to create original ensembles. In addition to retail, 2nd STREET offers buying services for those looking to sell their fashionable, gently-used items.
The Costa Mesa store features more than 10,000 items including men's and women's clothing and fashion accessories, along with a broad assortment of well-known international brands like Supreme, Vivienne Westwood and Burberry, as well as famous Japanese brand-names such as Comme des Garcons, A Bathing Ape and Hysteric Glamour. There's also a large selection of handbags and accessories from luxury brands including Louis Vuitton, Chanel and Gucci to name a few.
Open Sunday to Saturday from 11 a.m. – 8 p.m.
2nd STREET Costa Mesa is at 2937 Bristol St., Unit D101 in Costa Mesa at the Camp in the space formerly occupied by Active Ride Shop. 949.274.8585
---