Greer's Blog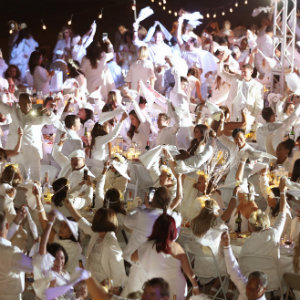 Le Diner en Blanc Returns to OC
10.05.18
Once again this year, the elegant white wave of dinner guests will take over one of the most prestigious public locations of the city. Le Dîner en Blanc returns to Orange County on Saturday, October 13.
For this second edition, more than 1,000 revelers are awaited at a new and secret location. Last year's inaugural très chic picnic attracted more than 800 cultural enthusiasts for a memorable evening at Bolsa Chica State Beach.
This annual secret affair, promises another unforgettable evening of elegance, beauty and magic, as it takes over an undisclosed public space whose location is only revealed minutes prior to the commencement of the event.
"If you were at the event last year, you know to circle this date! This event allows us to enjoy of some of our most prestigious and iconic public spaces of the city with elegance and flair", says Tiffany Brown of WOW Events!, returning co-host of Le Dîner en Blanc – Orange County. "For this new edition, we have once again searched the county high and low to find a venue that will 'wow' and render this night unique and magical as well as welcome more guests."
Be part of this year elegant evening, sign up now at orangecounty.dinerenblanc.com/register.
To maintain the uniqueness of Le Dîner en Blanc as well as staying true to tradition, guests must observe certain requirements and follow a few key rules:
Once confirmed, each guest's participation becomes mandatory, regardless of weather conditions. This is a rain or shine event.
Dress code: elegant and white only. Originality is encouraged as long as it is stylish and tasteful.
Table setting: all white!
Champagne and/or wine. Beer and hard liquor are prohibited.
As per Orange County, alcohol laws, guests cannot bring their own alcohol. Guests wishing to enjoy some wine or Champagne, must reserve online through the Dîner en Blanc's e-store. However, guests are welcome to bring their own non-alcoholic beverages.
To ensure that the location secret is kept undisclosed until last minute, guests meet at assigned departure location and are escorted by Dîner en Blanc volunteer.
In order to leave the event location as clean as when they arrived, guests are required to leave with all their belongings, leftovers and litter.
Guests must bring
A table, two white chairs, white tablecloth.
A picnic basket comprising fine food and proper stemware and white dinnerware.
A catered picnic basket option, which can be picked up at the site, will be available for those who do not wish to pack their own. Guests wishing to do so must reserve online through Dîner en Blanc website during the initial ticket registration.
For full details on the event's rules and regulations, please visit orangecounty.dinerenblanc.com.
---