Greer's Blog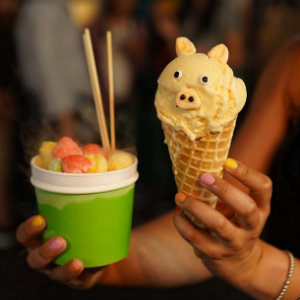 Little Saigon Market at the Asian Garden Mall
08.29.19
Friends, families and foodies alike can experience authentic street food, shopping, live performances and more at the Little Saigon Night Market on Friday, Aug. 30, Saturday, Aug 31, and Sunday, Sept. 1 from 7 to 11 p.m.. Located in Westminster, the Asian Garden Mall is also the largest majority Vietnamese-owned and operated mall in America, making it the ideal arena for this fun and exciting seasonal affair. The open-air market hosts dozens of local vendors serving up the best of their authentic, Vietnamese offerings.
Entrance to the market is FREE, with the average price point per item being $6-8; so whether the cravings are for jumbo grilled scallops or sweet treats, Little Saigon Night Markets items are not only delicious but affordable and versatile.
LITTLE SAIGON MARKET VENDORS INCLUDE:
Bin BBQ & Dessert: Chuối Nếp Nướng (grilled banana in sticky rice with coconut sauce), BBQ Pork Skewers, Roasted Corn, Xoi ống lá dứa (pandan steamed coconut cake roll), Banh Trang Trung Chien (rice paper with fried egg), Papaya Crab Salad, Xoi Xoai (mango sticky rice), and more
Buba: Boba Milk Tea, Coffee, and Thai Teas, Ga Chien Nho (popcorn chicken), Khoai Tay Chien (tornado fries), Coconut Juice, Suong Sao Hot Luu (rainbow dessert), Logan Grass Jelly Dessert, Logan Coconut Dessert, Pandan Mung Bean Dessert, Che 3 Mau (3 Color Bean Dessert), Che Trai Cay (Fruit Dessert), Rau Ma Nuoc Dua (pennyworth aka coconut drink), and Mocha, Matcha, Caramel Smoothies
Eiffel Cafe: Grilled Scallop, Oc Hap Sa (steamed apple snail with lemongrass), Grilled Bloody Clam, Steamed Clams, Coconut Sauteed Snails, Grilled Oysters, Korean BBQ, Oc Mong Tay (grilled razor clam), Bach Tuoc Nuong Muoi Ot (grilled octopus with chili salt), Oc Nuong Tieu (grilled snail with black pepper), Acai Bowls, and more
Fruities Panda: Mango Coconut Pudding, Fruities Yogurt, Nep Cam Yogurt, Fruitta Bowls, Fruit Smoothies, and more
Hong Phat Deli: Bap Xao (Vietnamese sautéed corn), Banh Nuong Khoai Mon (fried taro cake), Bo La Lot (betel leaf-wrapped beef), Chim Cut Chien (fried quail), Thit Nuong (grilled pork skewers), Ga La Chanh (lemongrass chicken jerky), Luoi Bo (beef tongue), Taiwanese Wheel Cakes, Chuoi Chien (fried bananas), and more.
Ngon Restaurant: Thai Salad, Nuoc Mia (sugarcane drink), Bap Nuong (grilled corn), Hot Vit Lon (balut), Thit Nuong (BBQ skewers), Xoiống Lá Dứa (pandan steamed coconut cake roll), Banh Trung Cut Nuong (quail omelette topped with shredded pork with tamarind fish sauce), Banh Duc Man (steamed coconut rice cakes with shrimp and fish sauce), Nem Bo & Heo Sa (lemongrass grilled sausage), Banh Bao Cade (egg custard steamed bun), Bánh Bò Dừa Chocolate (coconut, chocolate and honeycomb cake with shredded coconut), Crepes, and more
One Zo Bubble Corporation: Boba Tea with (wintermelon and honey green), Boba Milk Tea (roasted rice, matcha, bamboo), SnowCap Milk Tea, Fruit Tea, Egg Waffles, and more.
Phuong Mai: Tofu with ginger sugar (served hot or cold), Tofu Pandanus, Xoai Lac (mango tossed in chili salt sauce), Suong Sa Hot Luu (pomegranate mung bean and jelly dessert), fresh fruits, and more.
The Gift Shoppe: Animal Ice Cream, Herbal Tea, Non-Alcoholic Beer, Baby Back Ribs, Grilled Pork Skewers, and more.
*Vendors Subject to Change
9200 Bolsa Ave, Westminster.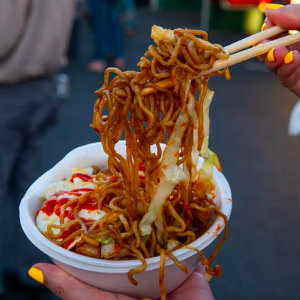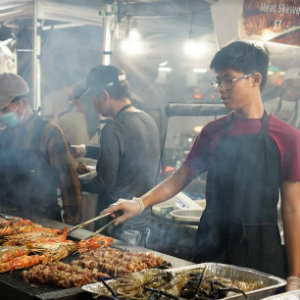 ---