Greer's Blog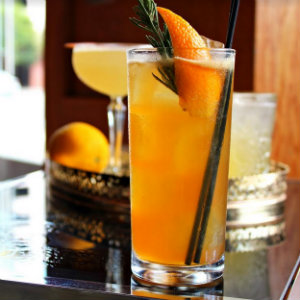 Lost Art Bar at McFadden Public Market
10.09.17
McFadden Public Market has updated its collection of concepts with the introduction of Lost Art. The themed bar is Santa Ana's contribution to the art world — a collective art work catering to the DTSA community — as well as a craft cocktail bar.
Lost Art brings a living, breathing space dedicated to the surrounding art community, showcasing the work of local artists along with a new menu of expertly crafted cocktails inspired by them! The upscale, art-centered bar has taken the place of Under Control, the former downstairs bar at McFadden. The food hall has also said goodbye to Bone Stock, the food hall's pho and spring roll concept.
As the eateries at McFadden continues to grow and evolve, so too has the entertainment and libations. The upstairs area of the food hall, which is home to one of its bars, Mission Control, is also stocked with vintage video games.
McFadden brings innovative eateries and nostalgic activities together harmoniously under one roof.
Lost Art is open 4:30 to 10 p.m. Monday through Thursday; 4:30 to late Friday; 11 a.m. to late Saturday; 11 a.m. to 9 p.m. Sunday.
McFadden is open 11 a.m. to 10 p.m. daily.
515 N Main St. in Santa Ana.
---