Greer's Blog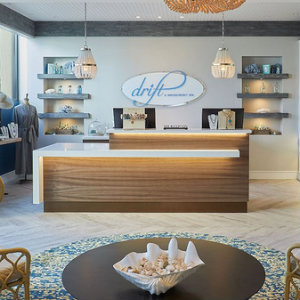 Men need love and pampering too!
06.07.19
The latest spot to discover is Drift Spa, at the Waterfront Beach Resort in Huntington Beach. It's the newest addition to the renovated oceanfront resort.

Throught the entire month of June, Drift Spa will be offering Father's Day Promotions and a Dad's Escape Package for $284 that includes a 50-minute Deep Sea Detox; and 50-minute Men's Rebalancing Facial.
Men's Super Charger Facial for 50 minutes - $210; or 80 minutes - $265.
The Ultimate Recharge Package $ 464 – includes an 80-minute Waterfront Recharge Massage; 50-minute BIOTEC Super Charger Facial, and a Men's Manicure & Pedicure.
In addition to boasting nine spa treatment rooms and an extensive treatment menu that proudly offers organic and natural products, Drift features separate lounge and spa facilities for men and women that features spacious locker rooms, luxurious whirlpools, and eucalyptus and lavender infused steam rooms. Other lavish amenities include a vitality bar with tea elixirs, a delicious juice bar, and an enchanting spa garden with an outdoor fireplace and seasonal herb wall. Every element of Drift was thoughtfully designed to create a coastal sanctuary that engages all five senses for the ultimate spa experience.
Open 8:30 a.m. - 7 p.m. Monday through Thursday; 7:30 a.m. to 7 p.m. Friday.
The Drift Spa is at 21100 Pacific Coast Highway in Huntington Beach. 714.845.8465.
---