Greer's Blog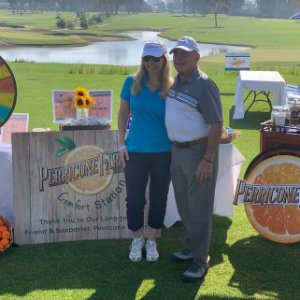 MIRACLES FOR KIDS RAISES MORE THAN $185,000 AT SECOND ANNUAL GOLF INVITATIONAL
04.04.19
Miracles for Kids, an OC-based nonprofit organization that supports families with critically-ill children who are struggling financially and emotionally, recently hosted the 2019 Miracles for Kids Golf Invitational at the Santa Ana Country Club. The event welcomed 150+ attendees and raised more than $185,000.
The Miracles for Kids Golf Invitational was presented by Perricone Farms Premium Juices, who sponsored a beautiful on-course comfort station with fresh juices and healthy snacks for the golfers. Joe Perricone, Chairman of Perricone Farms, has shown incredible support for the nonprofit and was named its Miracle Maker Honoree at the 2018 Night of Miracles Gala: The Miracle of Magic. Perricone Farms CEO and Partner Bob Rovzar also serves on the Board of Directors of Miracles for Kids.
The Invitational kicked off with a breakfast sponsored by PrimaHealth Credit featuring signature drinks hosted by NOLET'S Silver Gin, Ketel One and Perricone Farms. During breakfast, players were able to warm up at the Chipping Clinic with Majesty Golf pros. Then the participants hit the course, playing some notable holes with fun activations, including the Perricone Farms Comfort Station at Hole 4 that also featured a $5k Hole-in-One contest, a flatbread and whiskey tasting station at Hole 1 hosted by Malibu Farms and Faherty Brand from Lido Marina Village, and custom-branded, golf-themed cake pops featuring Miracles for Kids and lead sponsor logos handmade by Albert's Petite Sweets at Hole 16.
The Golf Invitational provided various other creative ways for participants to give back to Miracles for Kids, including a $1 million shootout, a $5,000 putting contest, a Pebble Beach Hole in One, an Audi Q5 Hole in One sponsored by Audi Mission Viejo, a $10,000 Exclusive 1-day Pebble Beach Golf Trip for 4 on a Lear XR40 Jet Opportunity Item donated by Jim & Glenys Slavik and family, a drop ball drop, and a mega putt contest.
After a great day of golf, attendees enjoyed a cocktail reception sponsored by Wells Fargo Advisors where the Miracles for Kids' Fund-a-Need portion of the fundraiser recorded an impressive $71,000 in pure donations to benefit patient families throughout California. The day concluded with the Championship Awards sponsored by luxury menswear brand David August (owner David Heil also is a Miracles for Kids board member). Hospitality 88 was named as this year's winning team, with players including Ryan Gale, Richard Ham, Dai Phung, and Bronson Wright -- all of whom received custom sports jackets from David August.
Additional event supporters included SAA interiors + architecture, the Frome Family Foundation, Sunrun Solar, Backyard Mary, 19th Hole Golf Productions, Ascendant Spirits, Citrus Marmalade, Código Tequila, Dr. Dena Mobile Chiro Truck, Jimmy John's, JVD Golf, Kombi Keg, Linksoul, ONEHOPE Wine, Popchips, Tavern+Bowl, and UGP – Urban Golf Performance.
For more information on how you can support Miracles for Kids, please visit MiraclesForKids.org.
---