Greer's Blog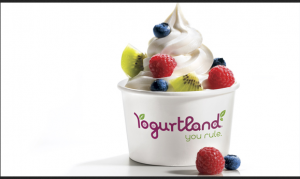 National Frozen Yogurt Day
02.04.13
Yogurtland celebrates National Frozen Yogurt Day today from 4 to 7 p.m. by serving free yogurt and toppings to guests from 4 to 7 p.m. Visit any Yogurtland for a commemorative cup and collectable biodegradable spoon while creating your masterpiece from 16 frozen yogurt flavors like birthday cake batter, hazelnut latte, boysenberry, caramel almond and almond midnight mocha and a wide array of toppings including mochi, granola, gummy bears, Hershey's Reese's Peanut Butter Cups, chocolate chips and more.

Yogurtland is also supporting First Book, a national education non-profit through Yogurtland Cares, the company's initiative to empower you. First Book offers new, high quality books and resources to kids in need. Yogurtland Cares will be matching donations to raise $20,000 to provide more than 8,000 new books to kids across the country through Feb. 10, Yogurtland will match donations made at http://cares.yogurt-land.com.

Yogurtland has locations through Orange County including Anaheim Hills, Brea, Costa Mesa, Dana Point, Fullerton, Irvine, Huntington Beach, Orange, Mission Viejo, and UC Irvine.


---