Greer's Blog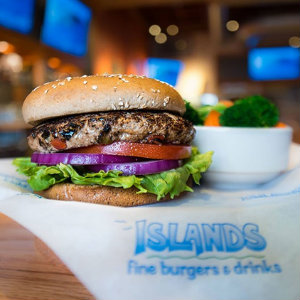 New Year Healthy Dining Options
01.11.18
The New Year is a perfect time to start making healthy choices, but it can be difficult to find low-calorie options when eating out. At Rubio's Coastal Grill and Islands they've added new low calorie and healthy dishes perfect for clean eating.
Health-conscious guests at Islands have plenty of options less than 700 calories. A couple favorites from the low-calorie Bikini Beach menu are:
No-Blame Grilled Veggie Tacos (480 cal): Corn tortillas stuffed with grilled veggies, cheddar cheese and topped with roasted corn, black beans, and Pico de Gallo.
Turkey Burger Lite (640 cal): Served with a whole wheat bun, topped with red onion, lettuce, mustard and served with a side of steamed broccoli and carrots.
At Rubio's Coastal Grill, their grilled shrimp dishes are great for healthier options because it's relatively low in calories and packed with important minerals and vitamins.
To find a local Rubio's near you, visit rubios.com.
We love the new Wild Argentinian Red Shrimp Bowl (720 cal): with mouth-watering shrimp with smoked paprika and tomato butter on a bed of crisp cabbage, citrus rice, and black beans, and topped with Hass avocado slices, white chipotle sauce, salsa fresca and crispy tortilla strips.
And the new Wild Argentinian Red Shrimp Two Taco Plate (860 cal): This warm, buttery shrimp is topped with creamy Haas avocado slices, salsa fresca, crisp cabbage, white chipotle sauce, and is served on warm stone-ground tortillas with a side of "no-fried" pinto beans and chips.
To find a local Islands near you, visit islandsrestaurants.com.
---