Greer's Blog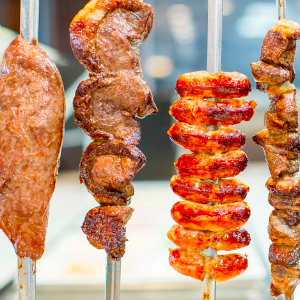 Silva's Fresh Eatery + Churrascaria's New Specials
12.31.18
Orange County-based Silva's Fresh Eatery + Churrascaria has added enticing new offerings to their eclectic menu of modern Brazilian fare. Known for being an international bistro with Churrasco and Brazilian favorites, Silva's has unveiled their Butternut Squash and Brussel Sprouts (w/ pork belly, herbs and spices), now available from their diverse chef's table. Also, from their Cozinha (kitchen) guests can now experience their Garlic Herb Crusted Mary's Lemon Chicken. The lemon chicken is roasted and served with basmati rice and local, seasonal vegetables. Silva's offers their full menu for lunch and dinner via dine-in or take out.
Silva's has also expanded upon their happy hour offerings, which is available daily from 3-7 p.m. Guests can order half priced Brazilian pizzas, which include their Chicken Catupiry, Margherita, Four Cheese Bianco and their best selling Calabresa. During happy guests can pull a seat up at their full bar and order $4 well drinks, $5 beers, $6 wine glasses and $7 specialty craft cocktails.
Silva's Fresh Eater + Churrascaria has quickly gained popularity since first opening in early 2018 and serves up an 'All You Can Eat Feast' for only $22.95, placing this polished casual concept as a top choice for Orange County locals, without compromising quality and having an incredible dining experience.
Silva's is located in South Coast Metro at 3672 S Bristol St. in Santa Ana.
---