Greer's Blog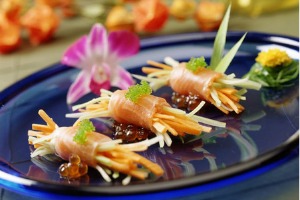 Small Bites, Big Causes
10.07.11
Here's a rare opportunity for you to enjoy the exclusive and elegant Center Club in Costa Mesa. On Monday from 6:30 to 8:30 p.m. the Center Club is open to all for its premiere culinary fundraiser, Small Bites for Big Causes.
Some of the finest local chefs will engage in a spirited competition showcasing small plate fare. Other festivities include live entertainment and a silent auction. Proceeds benefit MDA's Augie's Quest, For OC Kids Neurodevelopmental Center and ClubCorp's Employee Partners Care Foundation.
Some renowned participating chefs include Chef Jean Pierre Dubray of Pelican Hill Resort, Chef Bill Bracken of Island Hotel, Chef Britta Pulliam of Britta's Café, and Chef Lindsay Smith-Rosales of Nirvana Grill. Celebrity judges include Simon Majumdar, Cathy Thomas, Christine Avanti, P.J. Ochlan, and Mary Carrington.
Tickets cost $100 per person; or $150 for VIP includes early admission and reception at 5:30 pm.
To purchase tickets, visit smallbitesforbigcauses.com. The Center Club is at 650 Town Center Drive in Costa Mesa.
---