Greer's Blog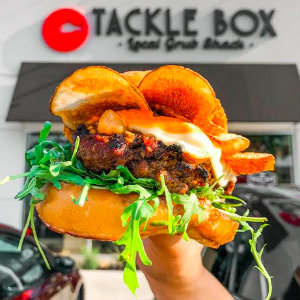 Tackle Box September Celebrations
09.18.19
Stop by Tackle Box, OC's favorite coastal pub, this September for some fun foodie holiday celebrations and touchdown specials all month long!
On Thursday, September 19, guests are invited to celebrate National Cheeseburger Day at Tackle Box with a buy one, get one free burger deal that's sure to excite your wallet and your taste buds. Then on Saturday, September 28, the restaurant will offer $5 flights of beer in honor of National Drink Beer Day! Regardless of which holiday you choose to celebrate (hopefully it's both!), Head Chef, Co-Owner, and Top Chef Alum Brian Huskey is excited to serve you and looks forward to providing you with a culinary experience you won't soon forget.
The specials don't stop there! With football season upon us, Tackle Box invites you to come watch the game and root your team on for the entirety of the season. Show your team spirit by wearing your favorite football jersey and you'll receive 50% off all beers and drinks - a deal worthy of an end zone celebration dance!
Thursday 11 a.m. – 9 p.m.; Saturday 10:30 a.m. – 10 p.m., and Sunday 10:30 a.m. – 8:30 p.m.
Tackle Box is at 3321 Hyland Ave Ste E in Costa Mesa.
---