Greer's Blog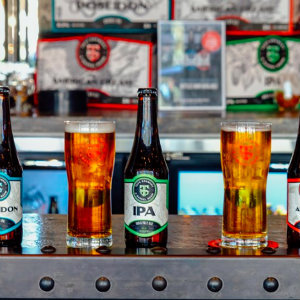 Taps Brewery & Barrel Room Turns One
07.22.19
TAPS Fish House & Brewery, a pioneer of the SoCal-Orange County craft beer scene opened its tasting room and full-scale production brewery in a giant 19,000-square-foot space one year ago. TAPS Brewery & Barrel Room is celebrating its first anniversary on Tuesday, July 23. Starting at 3 p.m., four of TAPS most popular beers will be $1 and includes a giant brewery pretzel. (Created for TAPS by Rockenwager Bakery) while supplies last.
The tasting room in TAPS Brewery & Barrel Room is reminiscent of an old brewery with arched brick walls, concrete floors, and rustic finishes along with galvanized pipe lights, custom-made locally. A corner of the tasting room houses vintage pinball and other classic video games. Outside, a comfortable patio has more games, a large fire pit and the permanently stationed TAPS food truck. Guests can enjoy award-winning ales and lagers and enjoy such tantalizing dishes as bulgogi beef masa fries, bánh mì bacon-wrapped hot dogs, and a hippie burger.
The brewery began by producing 5,000 barrels the first year, with a capacity of 25,000 barrels annually. TAPS' barrel-aged beer program has its own dedicated, 350-capacity barrel room. Both ales and lagers are produced daily for distribution and onsite enjoyment, but there is a focus on lagers, which have won TAPS six GABF/World Beer Cup medals since 2015.
Open 3 p.m. - 10 p.m. Monday-Thursday; 3 p.m. – midnight Friday; 12 p.m. – midnight Saturday; 11 a.m. - 8 p.m. Sunday.
Ample self-parking is available.
TAPS Brewery & Barrel Room is at 15501 Red Hill Ave. in Tustin.
---