Greer's Blog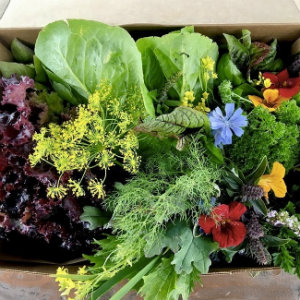 The FarmBox, Orange County's Organic Produce Box For Good
09.28.20
It's not widely known that in Orange County we have access to an amazing fresh organic produce box that can be delivered weekly to your home with proceeds that will help feed the hungry in Orange County. Thanks to a partnership with Alegria Fresh, Second Harvest Food Bank and Bank of America you can order a FarmBox for $30 at feedoc.org/farmbox/ designed to feed you and the community.

Revenue generated by this truly unique "Harvest-to-Home" program will power the jobs created to work the farm, as well as to purchase Farm to Family co-op produce at a seven times multiplier.

Every dollar of profit generated by your purchase of a FarmBox translates into seven pounds of produce and they project that the Alegría SoxxBoxx Farm will generate over 300,000 pounds of purchased produce annually.

A FarmBox can be combined into a craveable salad experience, a typical FarmBox contains two heads of lettuce, a bouquet of leafy greens, assorted herbs, vegetables, and edible flowers. The produce will always be harvested and available for delivery or pickup every Friday.

The produce is grown by Alegría Fresh, the freshest regenerative organic and nutrient-rich produce box in the marketplace with zero waste at Second Harvest Food Bank's parking lot in Irvine. The produce is harvested every Friday morning, then packed and delivered harvest-to-home between 3 and 5 p.m.

You can place your order each week here by Wednesday at midnight or subscribe. Freshly-harvested produce will be delivered to locations within a 15-mile radius of the Food Bank in Irvine, or available for pickup at the Food Bank on Fridays between 10 a.m. and 4 p.m.

The Second Harvest Food Bank is at 8014 Marine Way in Irvine.
---