Greer's Blog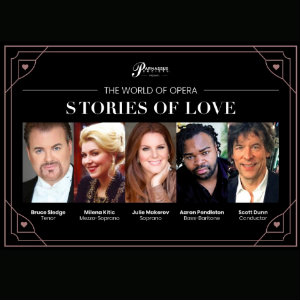 The World of Opera: Stories of Love on Valentine's Weekend
02.11.20
Beautiful love stories, told through some of the most beloved opera music of all time, will unfold on Sunday, Feb. 16, when the Parnassus Society presents The World of Opera: Stories of Love at the Soka Performing Arts Center in Aliso Viejo. The 3 p.m. concert is the perfect finale to Valentine's Weekend, with selections from romantic operas such as Madame Butterfly, Tosca and La Traviata sung by highly acclaimed performers.
The audience will enjoy performances by world-renowned artists who also call Orange County home: Tenor Bruce Sledge (City of Orange native), Mezzo-Soprano Milena Kitic (Newport Beach resident), Soprano Julie Makerov and Bass-Baritone Aaron Pendleton. Scott Dunn, Associate Conductor of the Los Angeles Philharmonic's Hollywood Bowl Orchestra, will lead the Parnassus Chamber Orchestra.
"We recognize that opera is an acquired musical taste and not everyone is ready to dip their toes into the world of opera via a full-length operatic performance," said Dr. Kenneth Tokita, Parnassus Society founder. "We have asked these incredibly talented, in-demand opera singers to perform a "sampling" of arias that will wow both opera 'regulars' and 'newbies.'"
Two young artists from the Orange County School of the Arts and Dolora Zajick's Institute for Young Dramatic Voices will be showcased and the Claudia de la Cruz Flamenco Dance Company also will perform.
Tickets and program: http://bit.ly/worldofopera
Through the generous support of Dr. and Mrs. Tokita, the nonprofit Parnassus Society presents world-class performers while keeping ticket prices affordable. General admission tickets are $25 to $50; seniors, students and active military are $15 to $25. Parking is free. Soka Performing Arts Center is located at 1 University Drive in Aliso Viejo.
---