Greer's Blog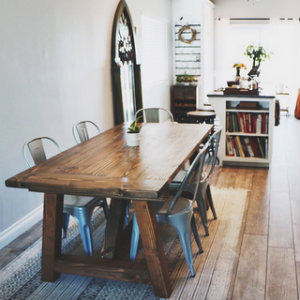 Veteran Owned Furniture Maker at FH HOme Store
06.05.19
Veteran-owned and Orange County-based Timber Fields Woodworks by craftsman Michael Ortiz showcases handcrafted, unique furniture and accessories. During the month of June, there will be a Timber Fields Woodworks pop-up event at the FH Home store in Newport Beach.
Ortiz established his business in 2013 to sell his made in America designs. During a routine patrol conducted 10 miles north of Baghdad in 2008, the ground beneath Ortiz's vehicle exploded and left him with a closed-brain injury and severe spinal cord damage that paralyzed him for months. After he was discharged, the former Army Specialist and his wife, April, were awarded a house and Furnishing Hope helped make it a home in 2013 — while they were expecting their first child.
"The scariest thing for everybody is to be forgotten. For people not to care anymore. So when anybody takes the time to do something like this for any of us, it makes it, I don't know how to explain it…I feel very lucky, very blessed. It feels good. Life is good."
FH Home sells new, current, on-trend furnishings and accessories. 100% of proceeds go directly to fund Furnishing Hope programs. Furnishing Hope provides the basic furniture and supplies to create a home for our wounded military heroes and families in transition.
Timber Fields Woodworks handcrafted furniture and accessories
Pop Up Sale at FH Home Store, a division of Furnishing Hope.
Open Tuesday -Saturday 10 a.m.- 6 p.m., Sunday 11 a.m.-5 p.m., Closed Monday.
Westcliff Plaza is at 1100 Irvine Ave. in Newport Beach, CA 92660
---