Greer's Blog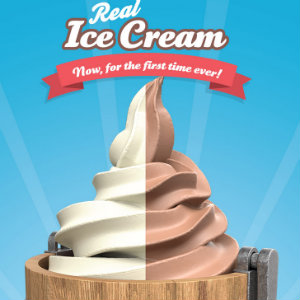 Yogurtland Introduces Ice Cream!
08.29.17
For the first time ever, Yogurtland is now offering two flavors of ice cream. You can come in try their new Real Rich Chocolate and Creamy Vanilla ice cream. You can argue the differences between ice cream and frozen yogurt all you want, but basically, as was reported in the SF Gate: "Ice cream and frozen yogurt are both frozen treats made from dairy, but there is a significant difference that sets them apart. In order for a frozen treat to be legally labeled as ice cream, it must contain at least 10 percent milkfat. This requirement is usually met through the addition of cream, and premium ice cream can contain as much as 16 percent milkfat. Frozen yogurt is not made with cream and does not have a fat requirement. Instead it is made with cultured milk such as yogurt though probiotics do not survive the freezing temperatures."
We actually love both ice cream and frozen yogurt, so we welcome the addition of ice cream at Yogurtland.
We also like that they're now offering a "Hope Cup" where you can help support Yogurtland Cares and charities that support children and women in need.
For an extra $1, you can choose the Hope Cup to fill with frozen yogurt, or ice cream and all proceeds from the Hope Cups will equally benefit the following three Yogurtland Cares supported charities:
Children's Miracle Network Hospitals – Providing treatment, comfort and hope to millions of sick kids and their families.
Exodus Cry – Assisting and empowering victims of exploitation around the world.
Rescuing Lives – Rescuing and caring for widows and orphaned children in poverty stricken areas around the world.
---