Greer's Blog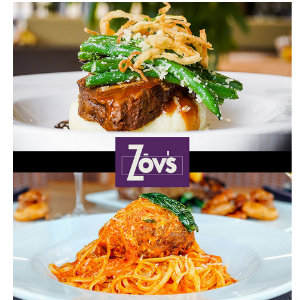 Zov's Family Meals To GO Made With Love
03.25.20
Long week? Zov's got you! Family meals starting at $39.95 are available at their Tustin from noon to 8 p.m. and Newport Coast from 2 p.m. to 8 p.m. locations. There's plenty of food for a family of 4 and leftovers, made with love and care and now available for takeout & delivery.
You can stock the fridge with two-day Family-Style Feast for $49.95 (take out only).
Includes 16 oz. of hummus with pita
Choice of Salad --- Mixed Green or Greek Salad.
Choice of Entrée—16 3 oz Chicken Breasts with Au Jus; 10 5 oz Chicken Kebobs with Yogurt Mint Sauce. 12 3 oz. Meatloaf Slices with Mushroom.
Choice of Side
Steam Vegetables
Mashed Potatoes
Jasmine Rice
Parmesan Green Beans
Pasta Dinner (take out only)
Choice of Salad
Mixed Green or Greek Salad
Choice of One
Spaghetti and Meatballs $39.95
Short Rib Pappardelle $49.95
Zov's Signature Pasta $39.95
Penne With Chicken Sausage $49.95
Includes Rolls
Zov's Tustin 714.838.8855.
Zov's Newport Coast 949.760.9687.
---