Shop OC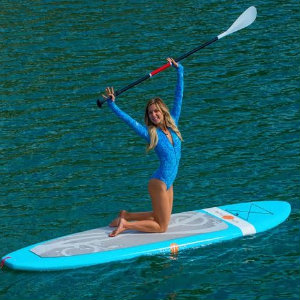 60 UPF Sun Protection Slipins Surfskins
07.27.16
We just discovered a local company, Newport Beach based SlipIns SurfSkins, a colorful line high quality water wear and active wear for women. The line is made in Huntington Beach and sold online. It's perfect for those concerned about harmful effects of the sun—the fabrics boast a 60+upf sun protection.
Founder, Robin Chesnie created the line after taking up surfing three years ago, she was looking for a better alternative to wetsuits for women, so she created her own.
"Our first design was SurfSkins, the full body suit with a thumb hole and foot stirrup-slip in that made getting in and out of a wetsuit a breeze," Chesnie said. "But the sun protective factor made it even more ideal for when you aren't wearing a wetsuit, for surfing, paddling, snorkeling, diving, anything to do with the water really."
Soon after Surfskins came out, they designed SurfSkin Minis, the legless version, like a one-piece sexy bathing suit but with long sleeves. There's also GymSkins, active wear for stylish workout wear.
You can check out the entire collection and shop online here.
---
More Travel