Shop OC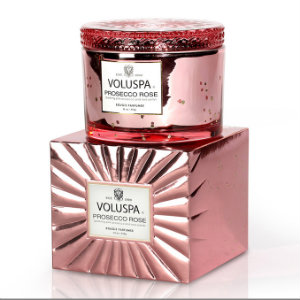 Affordable Luxury of OC Based Voluspa
12.18.15
Orange County based Voluspa can enhance your holiday experience with its hand-poured, paraben-free candles, custom designed diffusers and room and body mists.
Voluspa is affordable luxury. All of its stylish scented collections make perfect gifts.
One of our favorites is Voluspa's Vermeil Collection, ideal for the winter that comes in beautiful speckled vermeil pastel glass jars and tins, in scents of Incognito (blend of amber, black patchouli and oud); Prosecco Rose (a blend of sparkling pink prosecco and rose petals); Branche Vermeil (silver cypress, cedar and pine needle), Bourbon Vanille (French bourbon, vanilla bean), Casa Pacifica (California driftwood, sea salt, shore brush); Aurantia & Blackberry (aurantia tree, ripe blackberry, acai); and Makassar Ebony & Peach (Makassar ebony wood and peach nectar).
Another perfect collection is Voluspa's Maison Holiday Collection, with four holiday inspired fragrances: Blanc de Blancs, Visions of Sugar Plum, Spruce Cuttings, and Cinnamon Maison Candle-cinnamon, Ceylon & Copal. We especially love the iridescent polished glass jars with lids that provide an elegant glow. All of the jars can be reused for flowers or jewelry.
Voluspa can be found at retail stores, or online at Voluspa.com.
---
More Travel