Shop OC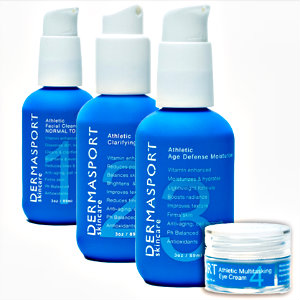 Dermasport of Irvine
10.01.14
From the same Irvine based company who makes high performance athletic personal care products such as TriSwim, Foggies and Trislide comes Dermasport. This skincare line is designed for athletes and those with active lifestyles. It addresses conditions that can wreak havoc on your skin.
Combining advanced skincare technology with a powerful blend of natural ingredients and a light citrus based scent, the collection includes: Athletic Face Wash (for oily, normal and dry skin), Athletic Clarifying Toner Mist, Age Defense Moisturizer and the Multi Tasking Eye Cream. Each is formulated to restore the skin's pH balance, cleanse, clarify and nourish. Key ingredients in each product includes as anti-aging peptides, antioxidants, soothing natural extracts and botanicals.
Paraben and gluten free, the products are designed for the busy athlete. The concentrated formula in each bottle will last approximately 2 months as a small amount is required for each step.
Dermasport is available online at dermasport.com
---
More Travel