Dining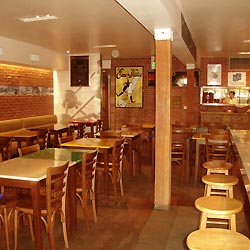 Belgian feast: Brussels Bistro in Laguna Beach
Get an authentic taste of Belgian cuisine right here in Orange County - in downtown Laguna Beach to be exact. Just walk down a short flight of stairs to the below-ground brasserie known as Brussels Bistro. Once inside the brick-walled eatery, the atmosphere is usually lively and boisterous, filled with patrons tucking into classic Belgian favorites like savory pommes frites (the Belgians are famous for their fries!), crock of mussels and of course, throwing back plenty of Belgian beers like Chimay.
Find other Belgian specialties like Flemish asparagus, cheese croquettes with gray shrimps from the North Sea, traditional waterzooi (a hearty stew) from Ghent, tender salmon with cherry beer - just to name a few.
Brussels Bistro is located at 222 Forest Avenue in Laguna Beach
949.376.7955
www.brusselsbistro.com
Hours:
5 p.m. to 11.30 p.m. Monday to Thursday
4:30 p.m. to 2 a.m. Friday
Lunch & dinner from 11:30 a.m. to 2 a.m. Saturday
Lunch & dinner from 11:30 a.m. to 11.30 p.m. Sunday
A Taste of France in Newport
Transport yourself to France with a meal at Pescadou Bistro in Newport Beach. Once inside the warm and inviting restaurant, tucked away on Newport Boulevard, you might actually forget you're in Orange County. Owners Jacques and Olga de Quillien are gracious hosts of the longtime eatery—they've been offering their popular Blackboard Specials (3-course dinners for $29) before the prix-fixe craze hit restaurants in the area. The Onglet steak, with shallots in a red-wine reduction ($21), is steak done right and the magret, a roasted duck breast with a green peppercorn sauce, is another stellar pick ($25). Photo via OC Register.
Pescadou Bistro is located at 3325 Newport Blvd in Newport Beach
949.675.6990