Dining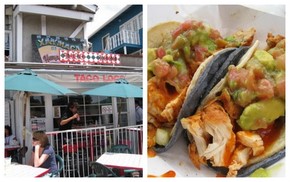 Hippie taco heaven?
Ah, the little hippie taco stand that could. Locals will tell you that Taco Loco in Laguna Beach has become a little hole-in-the-wall icon of the picturesque seaside town. Purists may decry the Californianized Mexican fare, what with offerings like the blackened mushroom and tofu taco ($3) to calamari nachos, but that doesn't mean it's any less enjoyable. Perhaps the most popular item there? The blackened mushroom and tofu burger—just a basic a square of tofu with sauteed mushrooms that's made thoroughly satisfying with a scoop of avocado pico de gallo and healthy douse of hot sauce ($6).
Then head outside at the patio tables to scarf down your meal while watching PCH traffic whiz by and let that ocean breeze hit you. Now that's a quintessential coastal California moment.
Taco Loco is located at 640 S. Coast Hwy in Laguna Beach
949.497.1635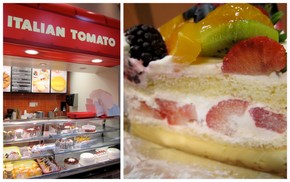 Sweet treats at Italian Tomato
The name might conjure up images of pasta dishes, but the glass displays full of pretty cakes and pastries would tell you different at The Italian Tomato in Costa Mesa. The little bakery is one of many popular Japanese food stalls at Mitsuwa Marketplace in Costa Mesa. There you can find unique Japanese-Italian-French confections, from Green Tea Tiramisu to Tart Pudding Cake (a white sponge cake with fresh fruits and a layer of tangy pudding), to the house-favorite Today's Cake, which is white cake layered with delicately crispy phyllo dough, fruit and cream. Try the Mont Blanc, a creamy and not overly sweet chestnut cake with an icing that resembles spaghetti strands. During the week, nab a slice of any cake plus coffee or tea for $4.25. Or order a whole Strawberry or Chocolate cake for $25.
Italian Tomato is located at 665 Paularino Ave in Costa Mesa, inside the Mitsuwa Marketplace
714.557.6699