Dining
Seaside Caribbean magic
Gentlemen, look no further if you want to take your date to one of OC's most romantic restaurants: Eva's Caribbean Kitchen in Laguna Beach. The seaside gem has been a favorite among locals for years and for good reason. Strings of twinkling lights around the restaurant lend an intimate vibe, but it's the fiery island-inspired dishes and deliciously strong cocktails that make for a sultry experience. You'll find that owner Eva Madray is an exceedingly gracious host—don't miss her rum cocktails like the Brown Suga, which is rimmed with a dusting of cinnamon or the Mango Tango, a mango martini made from actual pureed mangos. And if you can handle the heat, go for the cajun prawns—it burns so good.
Eva's Caribbean Kitchen is located at 31732 South Coast Highway in Laguna Beach
949.499.6311
www.evascaribbeankitchen.com
Hours:
Dinner starting at 5 p.m. Tuesday - Sunday
Closed Mondays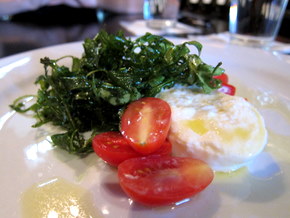 Lunch special at one of OC's best
If you haven't yet discovered Old Vine Cafe, maybe now's the time. OC Weekly just named the Costa Mesa eatery as 2009's Best Restaurant in OC. While Old Vine is known for its wine-tasting dinners, you can't beat their newish 3-course prix-fixe lunch for $20. Select a soup (a luxuriously rich butternut squash and leek bisque) or salad (pssst, OC Weekly also dubbed the burrata and crispy arugula OC's best salad!); and choose among a handful of hearty panini sandwiches (plus mac & cheese or quinoa jambalaya for you vegetarians!) for your main course and then finish off with a slice of creamy cheesecake and berry puree. It's a gut-busting lunch feast for sure, but perfect for the holiday shopping season when you'll need to escape the clogged malls and fuel up.
Old Vine Cafe is located at 2937 Bristol St. (at The Camp) in Costa Mesa
714.545.1411
www.oldvinecafe.com