Dining
Breakfast with a twist
Because it's nice to be able to have more than just regular ol' bacon and eggs for breakfast, there's Break of Dawn. At the Laguna Hills eatery, Chef Dee Nguyen has developed a cult following for elegant offerings like the creme brulee French toast—fat slices of egg-dipped bread in a pool of Mexican chocolate and coconut custard. Then there's eggs tempura, perfectly poached eggs that are then dipped in tempura batter and then fried. Eggs Benedict are given an updated twist with a pesto hollandaise and of course, there's a cinnamon sticky bun that's baked in a cast-iron skillet. Sounds like breakfast and brunch heaven, no?
Break of Dawn is located at 24351 Avenida De La Carlota in Laguna Hills.
949.587.9418
Hours:
8:00 a.m. to 2:30 p.m. Wednesday to Sunday
Closed Monday and Tuesday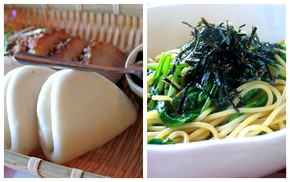 Tri-cultural delight
What happens when you have a melding of Japanese, French and Italian cuisine? For starters, there's sea urchin spaghetti. Osso Bucco with Wagyu beef. Tuna tataki with buffalo mozzarella. At Cafe Hiro in Cypress, chef Hiro Ohiwa has been charming diners for years with his quirkily wonderful (and reasonably-priced!) fare. The small restaurant is adorned with cheerful decor, perfect for a casual date or fun gathering with friends. Don't forget to save room for the fantastic desserts: the panna cotta, a silky custard that's not too sweet and studded with fresh berries and the walnut creme brulee is a standout, too.
Be sure to call ahead for reservations as the place gets packed for dinner, especially on the weekends.
Cafe Hiro is located at 10509 Valley View St in Cypress (in the same plaza as Carl's Jr.)
714.527.6090
Hours:
Closed Mondays
11:30 a.m. to 2 p.m.; 5:30 p.m. to 9:30 p.m. Tues-Thurs
11:30 a.m. to 2 p.m.; 5:30 p.m. to 10 p.m. Friday
Noon to 2:30 p.m.; 5:30 p.m. to 10 p.m. Saturday
Noon to 2:30 p.m.; 5 p.m. to 9:30 p.m. Sunday
www.cafehiro.com