Dining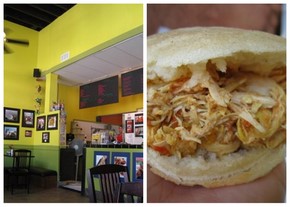 Sandwiches and more at Mil Jugos
Stuck in your usual lunchtime rut? Liven up your taste buds with some arepas and fresh fruit juices at Mil Jugos. As Orange County's only Venezuelan restaurant, the small shop in downtown Santa Ana has been delighting locals with its humble but delicious arepas—a cornmeal pancake that's stuffed with any number of savory meat fillings or cheese.
The palm-sized pancakes are cooked on a griddle—sweet, fluffy and slightly crisp, and then split to create a little pocket sandwich. Try the pollo or chicken arepa: it's stuffed with moist and flavorful shredded chicken, or the house special, the Pabellon, which is filled with shredded beef, black beans, grated white cheese and juicy and tart plantains for a lovely mix of savory and sweet. Best yet, the arepas are just $3 to $4 each.
For dessert, consider the cachapa con queso, a sweet corn pancake that's cooked like an omelette and filled with white cheese and fresh cream. It's the perfect marriage of salty and sweet, all tucked inside a warm, golden cake. Sold! Don't leave without trying the restaurant's namesake offering, fruit juices. Mil Jugos, which translates to "a thousand juices" actually offers a dizzying variety of beverages made with fresh fruits like apples, guanabana, guava, papaya, pineapples, plums and the most popular, the passionfruit. All you have to do is decide whether you want it straight or as a thick shake or smoothie.
Mil Jugos is located at 318 W. Fifth St. in Santa Ana.
714.836.4601
Hot Dogging It: Carm's Coneys
A Costco dog, this ain't folks: Carm's Coneys had a small cult following when it briefly opened shop in Costa Mesa, but now its new home is at the Irvine Spectrum Center. The NY-style hot dogs can now be found inside the food court, but don't let the inconspicuous location dissuade you. Sure you can get a regular ol' all beef dog anywhere, but Carm's Coneys has its dogs shipped in from upstate New York, from factories that make hot dogs the old world way: with high-quality meat, no additives and no artificial colors. Try the Dirty Water Dog, aka the Sabrett, (grilled, not boiled), with red onions. The signature offering is the Coney, made with juicy white veal and pork ($4). Don't forget to add any of the special New York-based mustards (from Buffalo and Syracuse) they have on hand, but try to keep the toppings minimal to let the flavor of the meat come through. You can even place an order online or via text message.
Carm's Coneys is in the Cafes at the Oasis Food Court, adjacent to 24 Hr. Fitness, at Irvine Spectrum Center, at 31 Fortune Drive, #216, Irvine.