Travel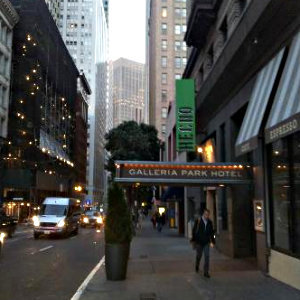 Stay in the Heart of San Francisco
San Francisco is easily one of our favorite cities in the world and thankfully there's no shortage of hotels to choose from. If you're looking for a great place to stay, consider the Galleria Park Hotel, a fantastic 177-room Joie De Vivre boutique hotel in a perfect location on Sutter Street.
It's just steps away from the Financial District and Union Square, shopping, dining, museums, theaters, and it's an easy walk to the Ferry Building, an international favorite foodie oasis.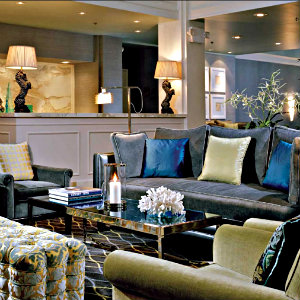 With the Galleria Park's recent multi-million dollar renovation the historic building, formerly Hotel Sutter built in 1911, is now a modern luxury hotel. The staff is warm and friendly, and accommodating to any request.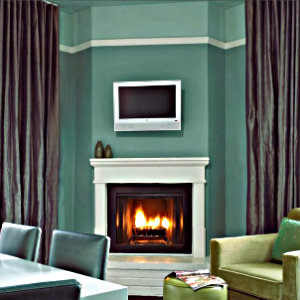 The hotel boasts a timeless and vibrant style, with its original Art Deco and Art Nouveau design with contemporary elements and services. As a guest, you'll enjoy a complimentary wine hour, daily morning coffee and tea service, a newspaper and free luggage storage. If you're traveling with a pet, you are in luck, it's a pet-friendly hotel with special packages that includes a doggy bag full of surprise treats, and a guide to dog parks and activities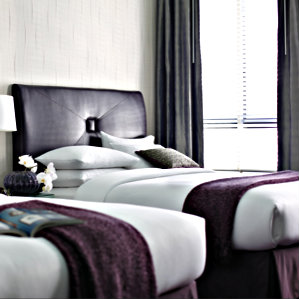 Amenities in the rooms include free Wi-Fi, Frette linens, large HD televisions, Keurig coffee makers, and luxurious marble bathrooms with mosaic glass walls and rain shower treatments. We love the guest rooms' high ceilings, expansive windows and jewel-toned color palette, work desk with ergonomic chair. You can also order room service.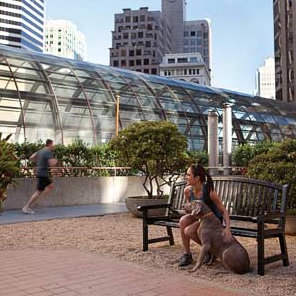 One of the nicest features at the hotel is an outdoor Park Terrace – perfect for getting outside, walking a dog or enjoying the cityscape with a glass of wine. It also features benches and a walking track.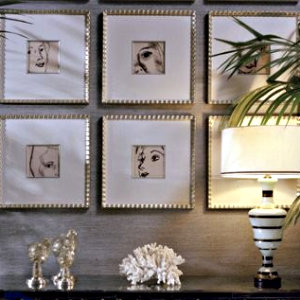 The hotel added a vast collection of fine art prints and photography curated from the Lost Art Salon, ranging from the 1930s to the present, primarily featuring Bay Area artists.
For current specials and rates, check their Special Package selections here, or call the hotel directly at 415.781.3060.
191 Sutter St. in San Francisco. 415.781.3060.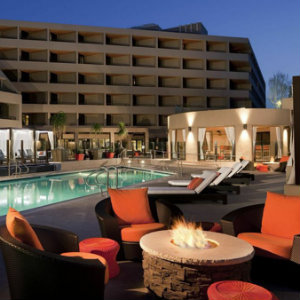 Summer Time Cool at the Hyatt Palm Springs
By Sue Facter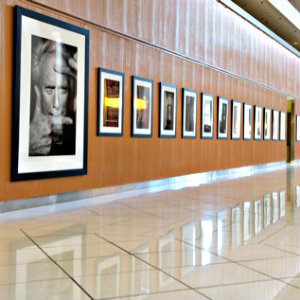 Hyatt Palm Springs, the only all-suite downtown hotel, you're as cool as a cucumber inside the lobby with oversized couches and a celebrity wall as impressive as the city itself. A-lister photos , shot at the Annual Palm Springs Film Fest show Meryl Streep, Clint Eastwood, Colin Furth, Bradley Cooper, among others.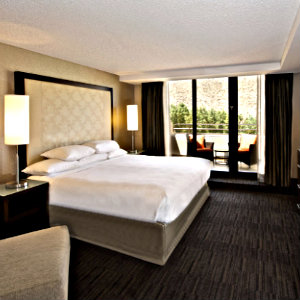 Suites are lovelier than some apartments we've seen. The living room turned out to be my temporary office with its own TV, lots of great lighting and plenty of couches.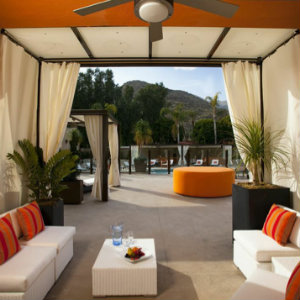 A comfy king-sized bed with tons of pillows, great linens, turns down service each night. The dark out shades did the trick with the bright Palm Springs morning light. We had a poolside view from our large patio with the San Jacinto Mountains in the background.
Knock, knock. Didn't order room service! My special welcome was an artistic display of chocolate covered strawberries and tall bottled iced cold water, perfect for an instant pick me up from the extreme heat. Plus, I received a special welcome card signed from several staffers with great notes.
The marble restroom was quite roomy with the perfect shower pressure. I did manage to take a bubble bath with the Kenet MD Body Wash provided with hotel amenities. I was pleased to see what I call bumpy soap (great for circulation). It's my favorite. There was plenty of closet space and hangers, perfect for a fashionista!
If you don't want to leave your pet at home, no worries. Most four-legged visitors are dogs and greeted by their cousin, the hotel mascot, Chuck, an English Bulldog. We're told he likes to sleep in, but we saw his cute pic on display!
Guests receive tickets for the Palm Springs Tram, something you want to do because it's 30 degrees cooler on the mountaintop. And what a spectacular view! Even those afraid of heights have said that it was worth the ride.
Dinner at SHARE, the in-house eatery, was a delicious experience. We shared a salad, the filet mignon and frog's legs, so delectable. For dessert, we dined outside with our lemon torte and mist on a comfy couch with a view of the pool, cabanas, Jacuzzi and all things relaxing. We even hit the in-house gym the next day to work off those extra calories.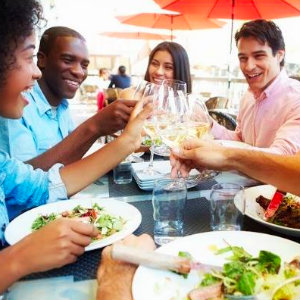 There's a new lobby wine bar adjoining. Hoo-Doo is the patio restaurant with a fire pit and facing the street.
285 North Palm Canyon Drive in Palm Springs. 760.322.9000