Travel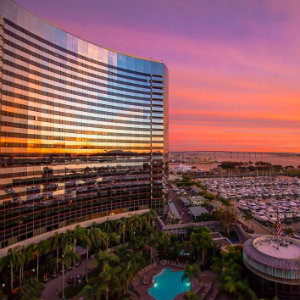 Fitness and Well Being at Marriott Marquis San Diego
Fitness and travel don't always work well together. But, thanks to hotels like the Marriott Marquis San Diego, they're making health and wellness a priority. The great high-rise hotel on the San Diego Marina isn't just situated in a perfect location---within walking distance to the Gaslamp District, Petco Park and adjacent the San Diego Convention Center—it's making wellness effortless with a new in room program, and extensive fitness classes at the resort.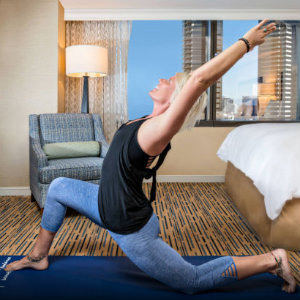 On a recent trip to the Marriott Marquis San Diego we were introduced to their new in-room yoga program—you can easily do yoga in the privacy of your room thanks to the hotel's onsite yoga instructor, Hella Neumann who is committed to well being and strives for self-awareness, balance, and peace during her yoga practices. Hella's classes are streamed on TV, and you can choose from six workouts: sunrise yoga, morning flow, sun salutations, meditation, core session and cool down. There's no need to bring yoga mats, they can be delivered to your room.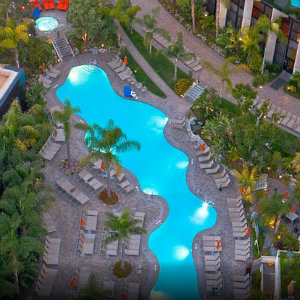 And, you also have the option to participate in complimentary classes with their extensive fitness offerings such as Zumba, FIT Camp, spinning as well as a self-guided running map. The fitness center also offers cardio equipment, free weights, and Universal weight machines. There's also a resort-style pool for relaxing or swim.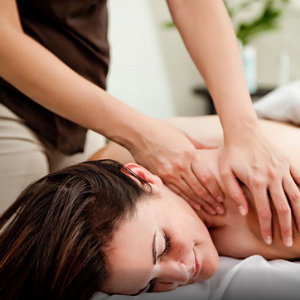 The Hideaway, is for your ultimate wellness experience, you can indulge in any of their massage, facials or body treatments. You can view the entire selection of rejuvenating and pampering treatments here.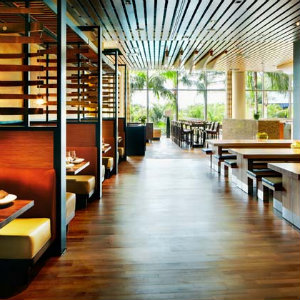 Marquis also offers healthy food and drink options at the all day Marina Kitchen from signature cocktails to honey-infused recipes from the hotel's very own beehives.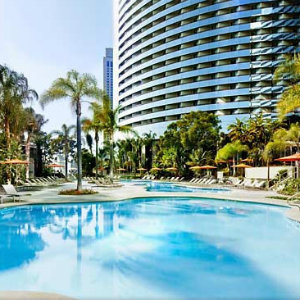 There's also a Roy's San Diego Waterfront, and Baja-influenced Tequila Bar & Grille with an option to rent a private poolside Cabana, and a Starbucks.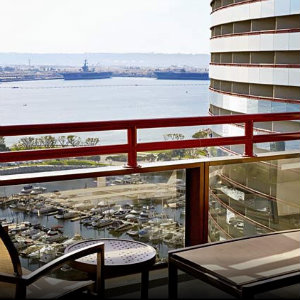 Spacious and modern rooms feature city, striking San Diego bay views or Coronado Island views, plus flat-screen TVs with premium channels, desks and coffeemakers. Some rooms offer access to a concierge lounge with free breakfast and evening appetizers. Suites include living areas with pull-out sofas and balconies.

333 West Harbor Drive in San Diego. 619.234.1500.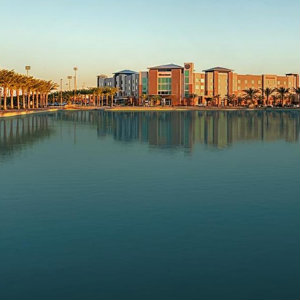 Getaway to Mesa for Food and Fun
By Carolyn Burns Bass
Before the Chicago Cubs and Oakland A's chose it for their spring training bases, before upscale shopping centers and uber-hip dining came to town, Mesa, Arizona was a satellite of big sister Phoenix. Mesa was known for the farms, orchards and ranches that supplied much of the area's meat, dairy and produce. No longer a satellite, Mesa is now Arizona's third-largest city and worth a visit on its own terms.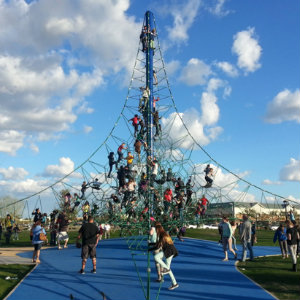 With the recent opening of the Riverview Park complex and the posh Sheraton Mesa Hotel at Wrigleyville West, Mesa ups its destination profile. The Riverview Park complex includes 170 acres of sports facilities, recreation for all ages, cultural and public event space, and a small lake circled with a walking trail. Mesa Riverview, a 250‐acre shopping and entertainment complex featuring more than 1.3 million square feet of retail space, dance clubs, bars and nightlife, is right across the street from the Sheraton Mesa and Riverview Park.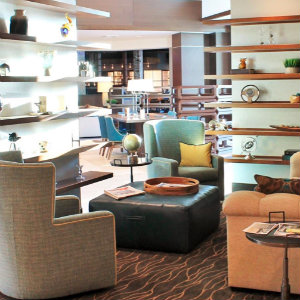 The Sheraton Mesa offers spacious rooms with elegant bathing and service amenities, plus the addition of microwaves and mini-refrigerators in every room. Those upgrading to club level have 24/7 access to the club lounge for breakfast, all-day hors d'oeuvres and beverages, private meeting spaces, and free wi-fi. The lobby boasts a 10,000-square‐foot lounge with a separate bar, plus several intimate seating areas.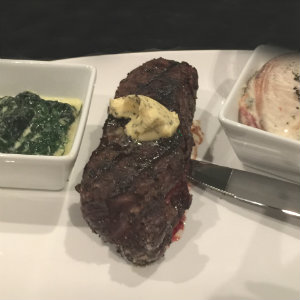 Sheraton Mesa has three dining options, including the swanky Legends Steak. Here you'll find classic selections of beef, pork, chicken, lamb and seafood served with contemporary flair by executive chef Cameron Bolender. Legends Steak is a hotel restaurant that treats guests to a dining experience worth staying in for. If you're a beef eater, try the 14-ounce New York Strip, which comes with your choice of two sides.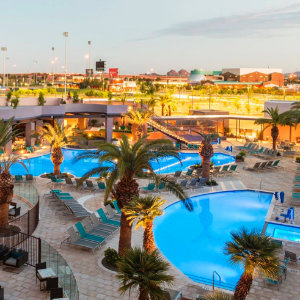 The Sheraton Mesa property designers got it right with more than an acre of poolside recreation, including two swimming pools, two hot tubs and two wading pools. It's the kind of place where you want to grab a good book, throw out a towel and order a margarita for a wintertime sun-spree. Those coming to town for baseball spring training will love the hotel's proximity to Wrigleyville West and Sloan Park where the Chicago Cubs train. Many of the hotel rooms have views overlooking the practice fields or Sloan Park.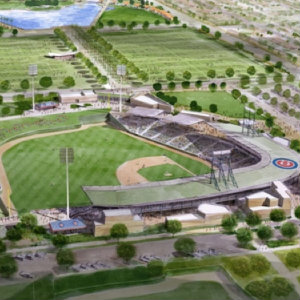 The Chicago Cubs have held spring training on and off in Mesa for more than 60 years. When the Cubs were offered a new place in Florida a few years ago, the people of Mesa circled their wagons and showed the team how much they care. Mesa hired a tip-top sports architecture group to design a new state-of-the-art baseball complex, Wrigleyville West. The complex provides the Cubs with expansive offices, a gym, 4 practice fields and the 15,000-seat Sloan Park stadium. Within two years the complex was complete and the Cubs moved in for their 2014 spring training. Mesa then turned around and poured money and talent into renovations of the existing Hohokam Field, drawing back the Oakland A's who opened the field in 1977.
You'll find tributes to Mesa's agricultural heritage in fresh food pathways throughout the area, from innovative urban gardens, to wineries, to farmer's markets, to mom and pop fruit and vegetable stands. Many of these sites offer tours and tastings, often with dining opportunities to showcase their finest.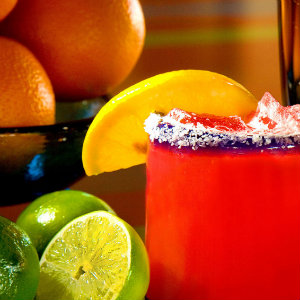 Let's begin with TQLA (tequila) Southwest Kitchen and Agave Bar. As the name implies, tequila is king here. TQLA employs a certified tequilier and keeps their aged tequilas in a special light and temperature-controlled room. In addition to four premium tequilas from a tap hyper-cooled to 5 degrees Fahrenheit, TQLA creates seasonal tequila infusions and offers flights of different tequilas. They offer a wide variety of Mexican and Southwestern cuisine to go with the tequila.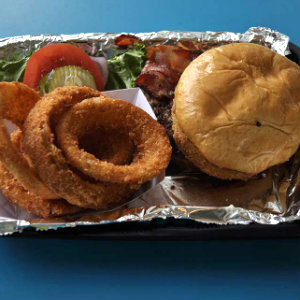 If you're exploring the foodways of Mesa, you'll want to cross a few town borders. Just to the south of Mesa is the charming town of Gilbert, once known as "the hay capital of the world." Here you'll find Joe's Farm Grill, a diner that has been featured on several popular food shows. Once a farmhouse where the owner grew up, the diner now offers speedy selections of locally sourced foods such as burgers, pizza, salads and ribs. If you're a fry fan, be sure to try either the garlic fries tossed in olive oil, Pecorino Romano and herbs, or the baked potato fries smothered in bacon bits, cheese, sour cream and chives. Sandwich offerings are tempting, but the burgers can't be beat. Joe's Farm Grill is adjacent to Agritopia, an innovative urban farming neighborhood built around a community garden.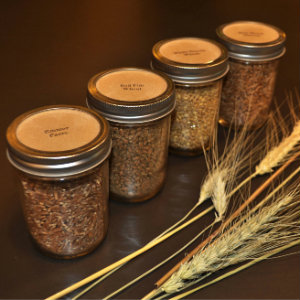 A little further south you'll come to Queen Creek, where you'll find two more fascinating foodie destinations. Hayden Flour Mill has preserved the seed and grows several heirloom varieties of wheat and processes them in its onsite grain mill. You can buy minimally processed, organic heirloom flour in the small store at the mill, or you select from among the varieties of crackers and pastas made from the same heirloom grains.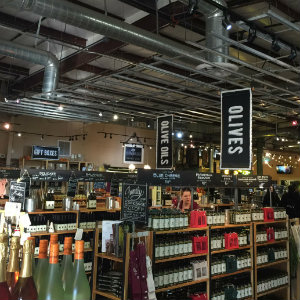 You're in for a treat only a few miles away at Queen Creek Olive Mill. This family-owned and operated business consists of an olive grove and mill where olives are pressed into the highest quality extra-virgin olive oil, as well as a gourmet food and wine store with a superb restaurant reminiscent of Tuscany. An "Olive Oil 101" tour is offered several times a day, seven days a week for $5. Those wanting a more immersive olive oil experience can schedule a private or group tasting session that explains how olives are selected, pressed, and categorized by color, flavor and consistency. If you're into olive oil, this is a must-see stop when visiting the greater Phoenix area.
Mesa hits a home run when it comes to outdoor activities, too. Championship golf, tennis, hiking, biking, hot air ballooning, and a myriad of other activities can be found throughout Mesa and her sister communities all year long. And if that's not enough, there's always spring training with the Cubs or the A's in their new, fan-friendly digs.
For more information about Mesa and the surrounding areas, take a look at Visit Mesa.
Carolyn Burns Bass is a California native who moved to Hillsborough, North Carolina to experience the seasons. She writes for a variety of travel publications, is the LA Luxury Travel Examiner and blogs for The Huffington Post. Follow her on Twitter at @CarolyBurnsBass or visit her website at www.carolynburnsbass.com to read more of her work.