Travel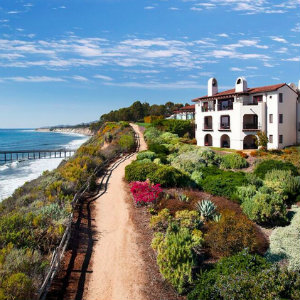 Three Trips to Take by Train from OC this Fall
By Calee Brean
When the stress of the holidays calls for a quick escape, an oft-overlooked mode of transportation is the best way to explore some great destinations just outside of town. Without the worry of traffic, parking or mile-long security lines, the train can be relaxing, scenic, efficient and affordable – even with a business class upgrade, which comes with reserved seating, complimentary snacks, and beverages. While you can take the train all the way to Virginia, in just four hours from one of six Amtrak stations in Orange County, a few places are worth a day trip, but also ideal for a night or two if you have more time or happen to miss the last train.
Santa Barbara Arrive: Downtown Santa Barbara (SBA)
From Irvine (IRV): Approximately 4 hours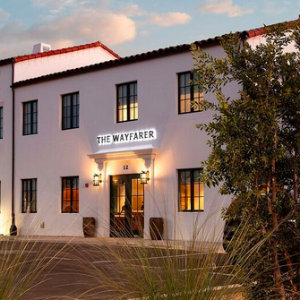 Located in the heart of the Funk Zone, an industrial area turned oenophile's urban playground, the Santa Barbara train station is directly across the main drag of State Street from The Wayfarer, a modern hipster hostel with private bathrooms and a communal kitchen, since you'll likely decide to stay overnight after catching a glimpse of the scenic Channel Islands interrupting the horizon and vast Santa Ynez mountain range on your way into town.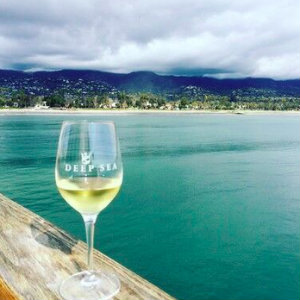 Tuck into one of the several tasting rooms on the urban wine trail such as Kunin or Municipal Winemakers, and save the sunset for Deep Sea, an over-the-water spot hidden behind a souvenir shop on Stearns Wharf. For dinner, venture up State Street to Sama Sama Kitchen for farm fresh Indonesian cuisine if only for the Balinese Lemongrass Chicken Tacos on repeat.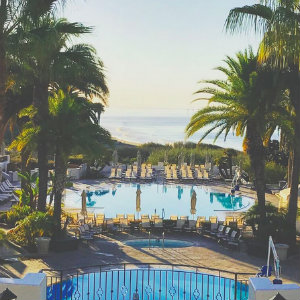 If a more secluded, luxurious experience is what you're after, continue to the Goleta (GTA) station and spend an evening at the American Riviera's iconic Bacara Resort & Spa. Enjoy a walk on the beach, a treatment at the mega spa, or since you're in such close proximity to the Santa Ynez wine country (Uber WINE has you covered), spend an afternoon tasting the local wines at Gainey, Roblar and Lincourt amongst the vineyards. Make a final stop for a Calabrian Chili spiced Ode to Dan Russo flatbread at Lucky Penny accompanied by a homegrown glass of Pinot at Santa Barbara Wine Collective before making it back to the platform.
North County San Diego
Arrive: Solana Beach (SOL)
From San Juan Capistrano (SJC): Approximately 1 hour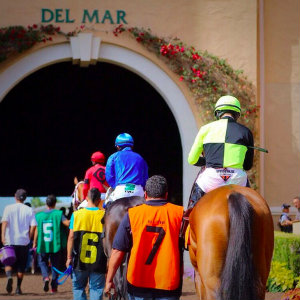 A quick jaunt south to San Diego's North County drops you into artsy Solana Beach where you can catch the complimentary double decker shuttle bus heading right to the Del Mar Racetrack. Spend an afternoon at the coastal track betting on the ponies during the Bing Crosby meet running through December 4. Much calmer and cooler than the scene-y summer season, fall also features special events like the Craft Beer & Cider Fest, free concerts and celeb chef-curated Sunday brunch in the exclusive Turf Club.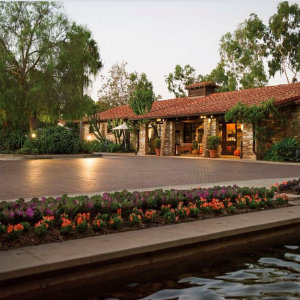 Celebrate your winnings or walk off your losses on your way to "The Brig" to enjoy post-track sunset cocktails and fish tacos overlooking Del Mar's famous Dog Beach and offering a bird's eye view of the track. Make your way up the coast to La Jolla for an evening at the lush, ranch-style Estancia La Jolla, where you sit fireside sipping inventive barrel-aged whiskey cocktails and feast on authentic Mexican cuisine at Mustangs & Burros before turning in. Spend the morning exploring the architectural masterpiece, Salk Institute and edge-of-the-world views over Torrey Pines Glider Port before Ubering back to Solana Beach for Clairecakes at the charming, LEED-certified local's favorite, Claire's. If you have time to spare before you depart, meander over to the Cedros Design District for shoe shopping at Cedros Soles, gifts and decor at SoLo or oldies but goodies at Antique Warehouse.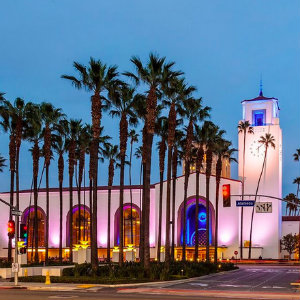 Downtown Los Angeles
Arrive: Union Station
From Santa Ana (SNA): Approximately 1 hour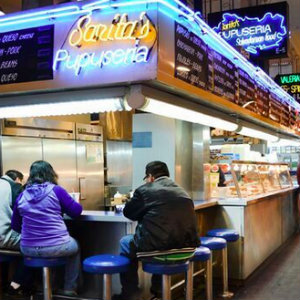 Once an area of Los Angeles that didn't necessarily warrant a leisure visit, Downtown Los Angeles has been revitalized, with creative retail, dining and mixed use spaces seemingly popping up daily, that will likely have you planning your next visit before you've left the station. While some still argue that DTLA is not as walkable as some cities, the generous mix of new with the old original downtown institutions sparks a number of reasons to explore the urban sprawl whether by newly-implemented Metro Bike Share program or foot. For a comprehensive resource for some of the best ride sharing programs in the world, visit here.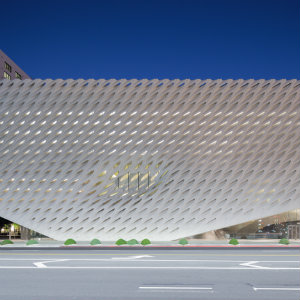 Make The Broad Museum, a 120,000-square-foot contemporary art mecca, your first stop, where free general admission allows you to peruse the work of Basquiat, Koons, Lichtenstein, Warhol and through October 2017, Yayoi Kusama's Infinity Mirrored Room. Continue your culture feast at the century-old Grand Central Market, an original downtown smorgasbord and landmark featuring 30,000 square feet of food vendors and marketplaces like the egg savants of eggslut, Salvadorian comfort foods of Sarita's Pupuseria, and Wexler's Deli, a modern take on a traditional Jewish deli.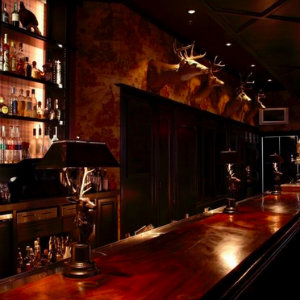 On South Broadway, stop into H. Merrick of California, an airy retail space flanked with sleek surfboards and oversized, photographs of the Pacific amongst housewares, art, and apparel by the talented designer, Heidi Merrick. Whether just stopping in or staying overnight, make sure the Ace Hotel is on your itinerary, especially for a visit to or peek at The Theater, originally founded by Mary Pickford and Charlie Chaplin in 1927, recently and marvelously restored to its original glory. Whiskey lovers can keep the old-timey vibe going strong at Seven Grand with a serious Old Fashioned before making way back to the track.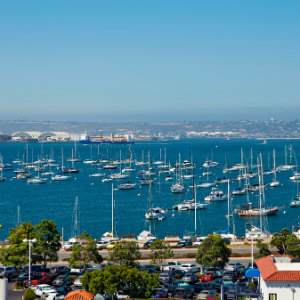 Getaway to Little Italy in San Diego
Little Italy, one of San Diego's most charming neighborhoods was once a true fishing village and the epicenter of the world's tuna fishing and canning industry up until the early 1980s when the last cannery closed.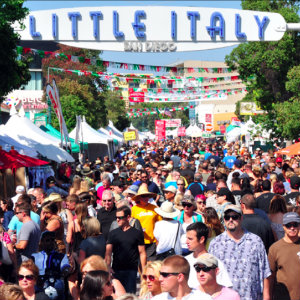 Now, it's home to some great Italian restaurants, markets, cafes, design stores, art galleries, home furnishings, salons, coffee shops and more. If you haven't visited lately, now is a great time go and on Sunday, Oct. 9 its annual FESTA, the largest Italian cultural festival on the West Coast will be celebrated from 10 a.m. to 6 p.m. Twelve blocks of Little Italy will be filled with more than 120,000 visitors and you can enjoy Italian food, al fresco dining, authentic Italian music on three difference stages, a Sicilian flag procession, street stickball and bocce ball tournaments, Gesso Italiano (Italian chalk) and more.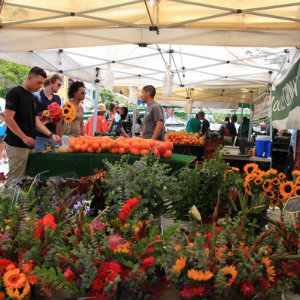 While you're in Little Italy, you don't want to miss the Mercato Farmers' Market every Saturday from 8 a.m. to 2 p.m. More than 200 tents are at West Cedar Street from Kettner Boulevard to Front Street offering farm fresh produce, pastured eggs and poultry, meat, fish, flowers, local artisan food and more. You can find food purveyors with sauces and relish, oysters, coffee beans, spices and more, and plants including orchids, fresh flowers, and bedding plants. Dine on crepes, paninis, green smoothies, lemonade and local chefs' specialties best enjoyed with our live music.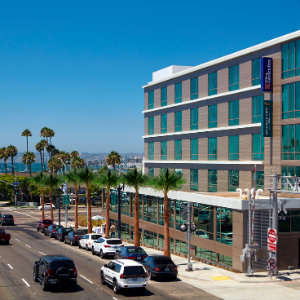 Anytime you visit Little Italy, you can stay at the brand new Hilton Garden Inn and Homewood Suites. It's a dual property that offers modern and chic rooms at the Hilton Garden Inn and extended stay suites at Homewood Suites. The location is perfect, it's on the Pacific Coast Highway and just around the corner from India Street---the hub of Little Italy and where the famed Italian restaurants are. It's also easy to get to the San Diego International Airport, and minutes from the lively Gaslamp Quarter and Convention Center.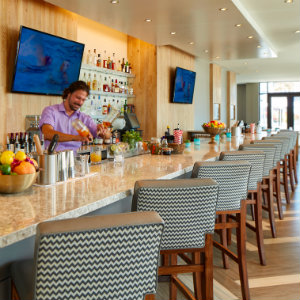 The hotels are attached and share a front desk, guest areas, two open air courtyards and living area with cozy fire tables - and a new restaurant concept, Pacific Standard Coastal Kitchen featuring Top Chef' alum Giselle Wellman and her all women team chef de cuisine Ami Cisneros from the JRDN and The Hopping Pig, and pastry chef Kaitlyn Dashnaw formerly at The Continental Miami. Pacific Standard Coastal Kitchen specializes in coastal-inspired cuisine and focuses on local artisanal purveyors such as Suzie's Farm, Bird Rock Coffee Roasters, and Prager Brothers Bakery. It's open for breakfast, weekend brunch, daily happy hour and dinner.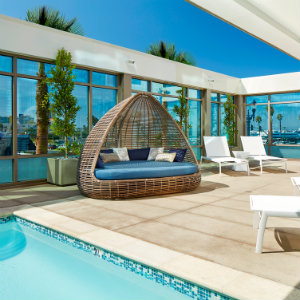 The hotel's architecture mirrors Little Italy's urban design with a modern, Art Deco-inspired look that features sleek lines, expansive windows, glass block, and metal accents. The Hotel's Bay Front suites offering spectacular bay views and the hotel's rooftop pool, spa, and state-of-the-art fitness center offer stunning views of skyline and panoramic views of the harbor.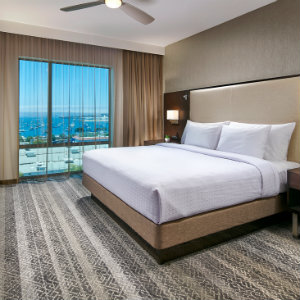 Hilton Garden Inn's rooms features a king or two queen beds as well as free high-speed Wi-Fi Internet access, a microwave, flat screen television, coffeemaker with complimentary coffee and tea service, and a mini-refrigerator. The Homewood Suites' spacious studios and one-bedroom suites offer a fully equipped kitchen with a microwave, stovetop, full-size refrigerator, and dishwasher. Homewood Suites guests have exclusive access to The Lodge for complimentary hot breakfast seven days a week, as well as a light evening meal and drinks served Monday through Thursday.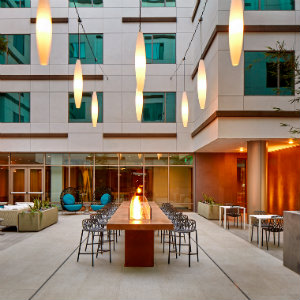 Additionally, Homewood Suites guest have all-day access to The Lodge, where they are free to work, gather, or just relax in the private space. The hotels' property-wide amenities include a 24-hour Pantry Market, valet parking, laundry service, and a business center.

The Hilton Garden Inn and Homewood Suites San Diego Downtown/Bayside is at 2137 Pacific Highway in San Diego. sandiegohiltonhotels.com or call 619.696.6300