Travel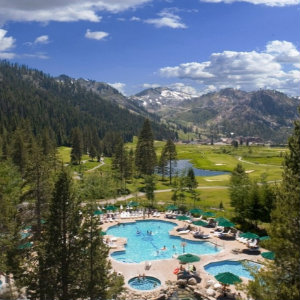 Year-Round Luxury Resort at Squaw Creek
At Lake Tahoe, we stayed at the Resort at Squaw Creek, one of the country's top year-round resorts in one of the most scenic locations-- set on a hillside spanning 195 acres beneath the peaks of Squaw Valley and just five minutes from Lake Tahoe. Squaw Valley also hosted the 1960 Winter Olympics.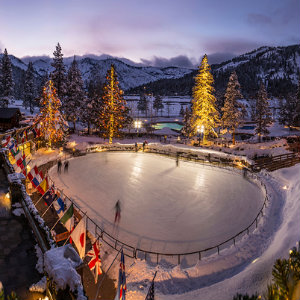 There are non-stop activities for winter and summer sports enthusiasts, golf pros, hikers, cyclists and leisurely types. The Resort boasts three heated swimming pools—a giant 120-foot water slide, an ice skating rink, and an award winning spa. With on property restaurants, boutique shops and an impressive fitness center, it makes an incredible vacation spot.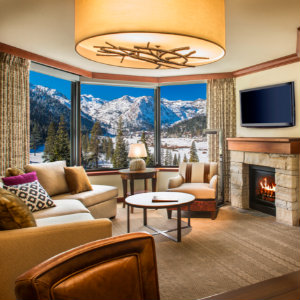 While staying at The Resort at Squaw Creek we recommend reserving a Fireplace Suite, a homey and elegant residential-style space with a living room, kitchen, bedroom, fireplace and flat-screen TV and stunning views of Squaw Valley and the surrounding Sierra Nevada peaks.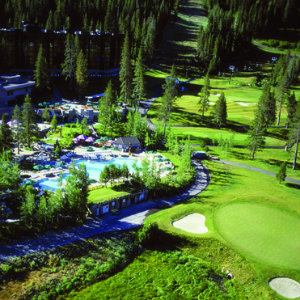 In the winter, it's a haven for all. There's even an on-property chair lift and you can enjoy downhill skiing, snowboarding, cross-country skiing, snowshoeing, sledding and snowmobiling. During the summer, you can discover the great outdoors through hiking and biking trails, fishing, cycling and all kinds of outdoor recreation, or just taking it easy. The property also features a Robert Trent Jones Jr. championship golf course and tennis courts.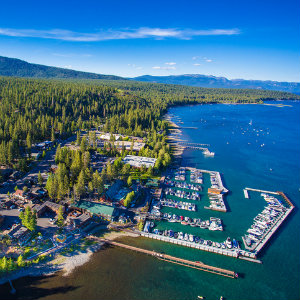 On our trip, we took a scenic bike ride to Tahoe City, at North Lake Tahoe. The beautiful alpine lake is the largest in North America and the second-deepest lake in the U.S. It's here that you can take advantage of incredible land and water sports--hiking, mountain biking, fishing, boating, sea kayaking, sailing, water skiing and jet-skiing. Even the crisp mountain air and clear blue water will take your breath away.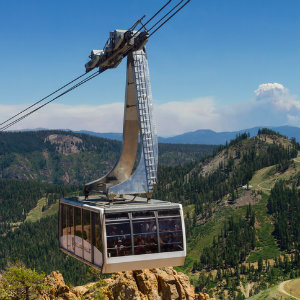 At Squaw Valley, it's a must to take the Aerial Tream Ride—just a 10-minute vertical ride climbing 2,000 feet. You will have incredible 360-degree views of the mountainscape, waterfalls and the iconic Tram Face. Depending on the time of year, at the summit at "High Camp" there are many activities to enjoy including al fresco dining and a pool and hot tub.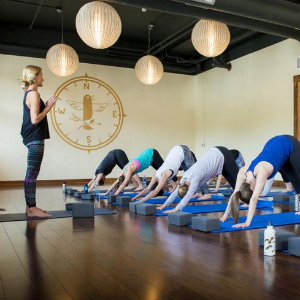 And, even if you aren't a yoga enthusiast (like us), you most likely will change your mind at after class at The Wanderlust Yoga Studio. Anyone, can take a class at this little sanctuary, that offers classes to inspire and strengthen their mind, body and spirit. You can choose from a variety of yoga styles and classes here.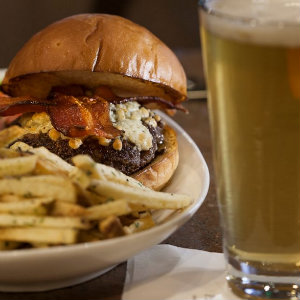 At Squaw Valley, for dining we recommend two eateries both serving fresh and sustainable sourced foods. There's the casual and family friendly Rocker@Squaw Creek; and for fine dining, cocktails and wines, a must is the PlumpJack Café, considered one of Lake Tahoe finest dining experience. Chef Ben "Wyatt" Dufresne works with local farmers and showcases the freshest organic ingredients; the Cafe Bar features signature cocktails, beers on tap and a selection of great wines by the glass, and a seasonal bar menu featuring the famed PlumpJack Burger. It's open for breakfast, lunch and dinner.
If you're looking for special offers and packages, check our their site, or get on their mailing list. Offers pop-up throughout the year. You can check out specials here.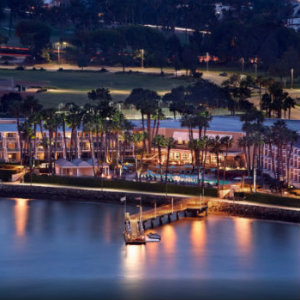 Luxe and Laid Back at Coronado
San Diego consistently tops the lists of best vacation spots in the U.S. and for good reason. With near perfect year-round weather, pristine beaches, major attractions such as Balboa Park, PETCO Park and the San Diego Zoo, historic and cultural sites, not to mention great dining and shopping---it's a traveler's dream.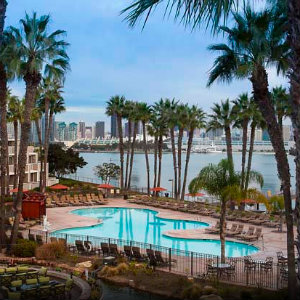 If a luxe and laid-back lifestyle is your idea of the perfect vacation, you'll want to consider the newly renovated Marriott Coronado Island Resort & Spa—that offers the perfect San Diego vacation experience. The resort just completed a major renovation and couldn't offer a better location.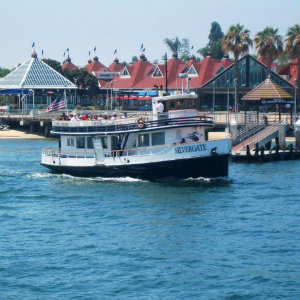 It's off the main drag of Coronado, in a tranquil spot spanning 16-acres on the waterfront—across the Big Bay from downtown San Diego. With its proximity to the Coronado Bridge, you can be in the city within minutes, or you can walk to the Coronado Ferry that runs hourly most days between Coronado and downtown San Diego.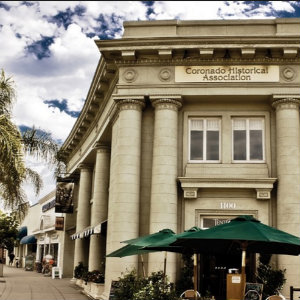 There's plenty to do and see on Coronado—Orange Avenue offers charming shops and restaurants, you can bike the island, kayak in the Bay, enjoy the gentle surf and sparkling sand beaches, catch a show at the Lamb's Players Theatre, and visit the historic Hotel del Coronado. Yet, you can make the most of your stay by enjoying the new offerings and amenities at the hotel.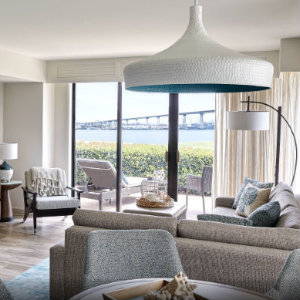 The resort just debuted an all new redesign of its 300 guestrooms, including 7 deluxe suites and 20 cottages--spacious rooms with a balcony, offering Marriott's luxurious signature bedding, flat-panel TVs, oversized tubs, walk-in showers, premium Thann bath products and luxe robes. Each room offers high speed Internet and Internet TV, so that you can access your Netflix and Hulu accounts.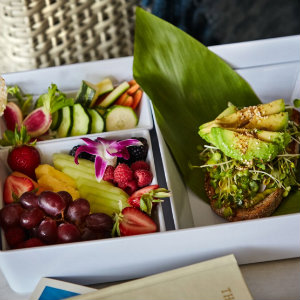 Think of it as wellness destination-- you can dine on conscious cuisine throughout the resort, as well as the Spa at Coronado Island where you can create your own Wellness Bento Box. You can take advantage of relaxing beach walks, meditation, outdoor still meditation, stress-less-stepping, liquid yoga, sunrise and sunset beach yoga.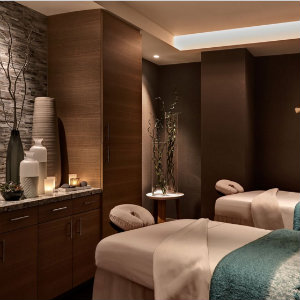 To make the most of your stay, you'll want to book a treatment at the brand new 5,500 square foot luxury spa – committed to healing therapies and indulgent services with 10 treatment rooms, co-ed relaxation room, outdoor spa garden, men's and women's locker rooms with steam rooms as well as a manicure and pedicure salon. The expert aestheticians and therapists specialize in body scrubs, body wraps, facials, massages, mani-pedis and waxing. One of their signature products used at the spa, Elemis is a new favorite. It's an award-winning anti-aging skin care line from Britain.


The new two-story Wellness Center offers state-of-the-art equipment, daily fitness classes and special events for members and groups, a movement studio, lap pool, and nine sport courts - three tennis courts, one basketball court, one multipurpose court, and four pickleball courts.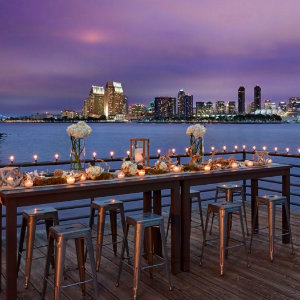 San Diego has so many great dining options to choose from, and you'll be impressed with the resort's Current & Tides restaurants specializing in farm-to-table with beautiful views of the skyline. Chef Michael Poompan oversees all of the food services at the resort and partners with top purveyors such as Suzie's Farm, Kentor Canyon Farms, Brandt Beef, Cook Pig's Ranch, Zoe's meats, Mary's Chickens and Sadie Rose Bakery.
Current is open for breakfast, lunch and dinner; and Tides offers a wide selection of signature cocktails, beer, wine and light appetizers and snacks in the evening, as well as dinner.
Marriott Coronado Island Resort & Spa is at 2000 Second St. in Coronado.619.435.3000.