Travel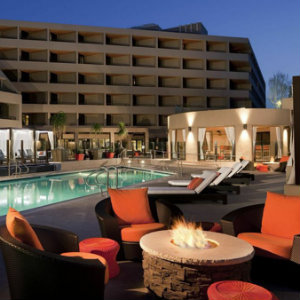 Summer Time Cool at the Hyatt Palm Springs
By Sue Facter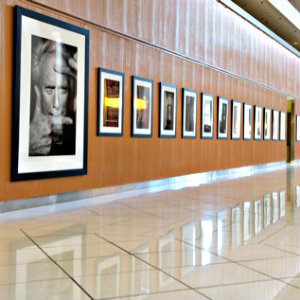 Hyatt Palm Springs, the only all-suite downtown hotel, you're as cool as a cucumber inside the lobby with oversized couches and a celebrity wall as impressive as the city itself. A-lister photos , shot at the Annual Palm Springs Film Fest show Meryl Streep, Clint Eastwood, Colin Furth, Bradley Cooper, among others.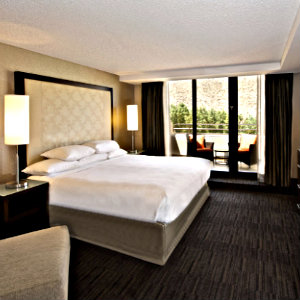 Suites are lovelier than some apartments we've seen. The living room turned out to be my temporary office with its own TV, lots of great lighting and plenty of couches.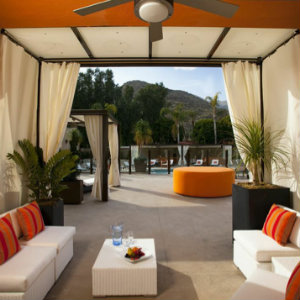 A comfy king-sized bed with tons of pillows, great linens, turns down service each night. The dark out shades did the trick with the bright Palm Springs morning light. We had a poolside view from our large patio with the San Jacinto Mountains in the background.
Knock, knock. Didn't order room service! My special welcome was an artistic display of chocolate covered strawberries and tall bottled iced cold water, perfect for an instant pick me up from the extreme heat. Plus, I received a special welcome card signed from several staffers with great notes.
The marble restroom was quite roomy with the perfect shower pressure. I did manage to take a bubble bath with the Kenet MD Body Wash provided with hotel amenities. I was pleased to see what I call bumpy soap (great for circulation). It's my favorite. There was plenty of closet space and hangers, perfect for a fashionista!
If you don't want to leave your pet at home, no worries. Most four-legged visitors are dogs and greeted by their cousin, the hotel mascot, Chuck, an English Bulldog. We're told he likes to sleep in, but we saw his cute pic on display!
Guests receive tickets for the Palm Springs Tram, something you want to do because it's 30 degrees cooler on the mountaintop. And what a spectacular view! Even those afraid of heights have said that it was worth the ride.
Dinner at SHARE, the in-house eatery, was a delicious experience. We shared a salad, the filet mignon and frog's legs, so delectable. For dessert, we dined outside with our lemon torte and mist on a comfy couch with a view of the pool, cabanas, Jacuzzi and all things relaxing. We even hit the in-house gym the next day to work off those extra calories.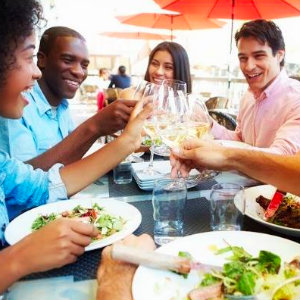 There's a new lobby wine bar adjoining. Hoo-Doo is the patio restaurant with a fire pit and facing the street.
285 North Palm Canyon Drive in Palm Springs. 760.322.9000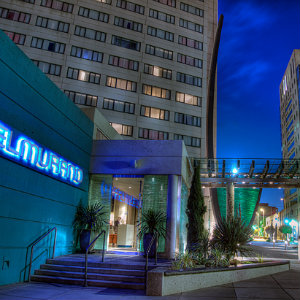 Spotlight on Tacoma
On a recent trip to the Pacific Northwest, we visited Tacoma which doesn't get the same tourist love as its better known cousin, Seattle, but it's loaded with beauty, charm, a great artsy boutique hotel and some world class museums worth checking out.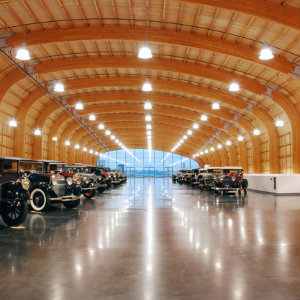 Whether you're a car enthusiast or not, you shouldn't miss the LeMay Museum, hands down one country's best auto museums, as well as the world largest, with up to 350 cars, trucks and motorcycles from private owners, corporations. It also houses the renowned LeMay private collection which achieved a Guinness Book of Word Records of more than 2,200 vehicles in 1997.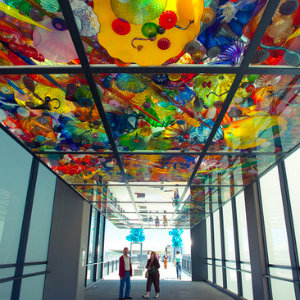 There's also the fantastic Museum of Glass, a whopping 75,000-square-foot art museum dedicated to the medium of contemporary glass. It celebrates the studio glass movement like no other, by nurturing artists, offering education, and allowing creativity with a state of the art 7,000-square-foot hot shop amphitheater where you can watch the art of live glass blowing demonstrations.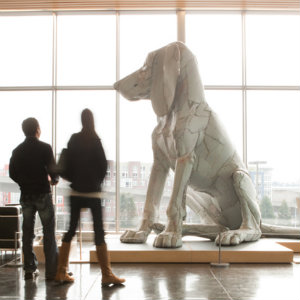 With the Tacoma Art Museum's mission of connecting people through art you can find a variety of glass works from Tacoma native Dale Chihuly, Japanese woodblock prints, nineteenth-century European and twentieth-century American art, Native American Indian portraits and a vast collection Northwest art.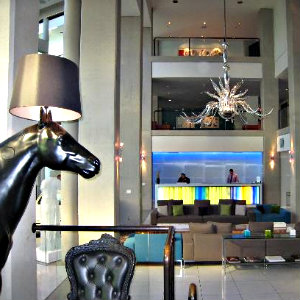 We were fortunate to stay at the luxury boutique Hotel Murano, which is right where you want to be in Tacoma. You can walk to the area's best restaurants and museums; it's only minutes from downtown Seattle and breathtaking areas like Mount Rainier and Snoqualmie Falls. The hotel is also close to Chambers Bay, the 2015 home of the U.S. Open.
And if you're an art lover, you'll appreciate the museum-worthy collection of glass displayed throughout the hotel. Each floor is dedicated to a particular glass artist, with fifty glass artists featured in all including Costas Varotsos and Murano artist Massimo Micheluzzi.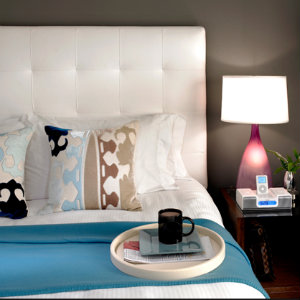 The rooms are modern and chic, plus you can get ultra comfortable by choosing the exact pillow you prefer from their pillow menu. And with the choices in dining at the hotel, you can just dine in. We loved Bite, for breakfast, lunch and dinner.
Hotel Murano is currently offering three great specials to make your Tacoma stay even better.
Artsy Fartsy. Overnight accommodation, plus you can explore Tacoma's booming arts scene with museum tickets for two to the Tacoma Art Museum, the Museum of Glass, and tickets to the Washington State History Museum. Museums are closed on Monday and Tuesday
Spa La La La. An art-filled getaway and spa escape? This includes overnight accommodations; two massages at and facials at Savi Day Spa; and lunch for two at the Spa. A 48-hour advance booking is required.
Hot Piece of Glass. you can immerse yourself in the art form that Tacoma is known for and try your hand at glassblowing, too. It includes overnight accommodations, two tickets to the Museum of Glass, hands on glassblowing lessons for two at Tacoma Glassblowing Studio – you keep the glass art you create; valet parking. A 48-hour advance booking required; Museum is closed on Monday and Tuesday.
Hotel Murano is at 1320 Broadway in Tacoma. 253.238.8000.