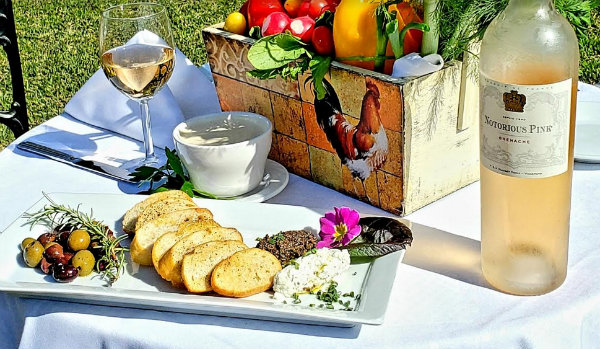 What could be better than a "Date Night" with a leisurely dinner in the beautiful gardens at Sherman Library & Gardens, listening to romantic music, sipping perfectly paired wines and enjoying fresh, flavorful dishes with your loved one, spouse, partner, or a best friend?
Beginning on Thursday, July 16, and continuing each Thursday evening through summer, Chef Pascal Olhats and Chef de Cuisine Jessica Roy at Café Jardin will offer dinner for two, a four-course prix fixe menu with wine pairing. Reservations are at 6 p.m., 6:30 p.m. or 7 p.m.
$130 per person plus tax & tip (includes Garden entry fee).
Priority seating for couples, however parties of four accepted if available.
Please call Cafe Jardin at 949.673.0034
Under the Stars Menu Summer 2020
1st Just like in the South of France -- Tapenade Nicoise & Herb Crustinis and Radish Bouquet with Saucisson
Wine: ~Notorious Pink Rose~

2nd Seafood Plate with Lobster Beignet, Smoked Salmon Crepe, Scampi Provencal
Wine: Infamous Gold, South of France

3rd Choice of: Roasted Stuffed Quail, Confit Garlic Sauce, Ratatouille Provencal or Mediterranean Seafood Bouillabaisse with Bass, Clams, Mussels, Shrimp & Spicy Rouille

Wine: Scandalous One Cabernet Noir

4th Choice of: Baked Goat Cheese on Mache Lettuce with Brandied Raisin, Walnut Dressing or Warm Chocolate Chestnut Tort, Raspberry Liquor Berry Compote and & French Vanilla Ice Cream

Wine: Port

This menu is also available for take-out $80 per guest.

Pick-up between 5 & 6 p.m.
2647 East Coast Hwy, Corona Del Mar. 949.673.0033.
---
The Latest from greer's oc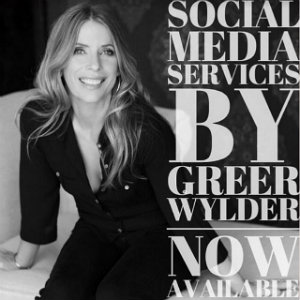 Social Media Services by Greer
Let's face it, you're a business owner or nonprofit, and you need a great Social Media voice, but you have only so many hours in the day.
I love Social Media and have been doing it for years for my…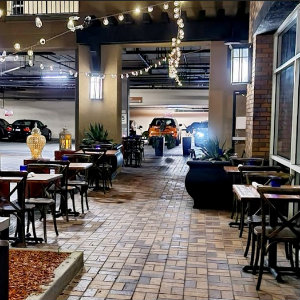 Khan Saab OPEN for Street Bistro Dining
Khan Saab Desi Craft Kitchen in Downtown Fullerton has transformed their outdoor space into street bistro dining, with string lights for ambiance, that is both inviting and elevated, perfect for dining al fresco. Guests can enjoy 100% halal signature…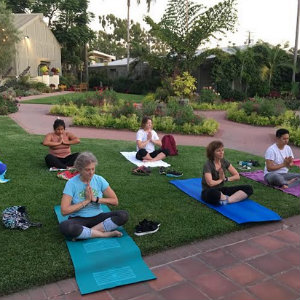 Summer Yoga at Sherman Gardens
Get grounded, rooted, and connected at a yoga class set outdoors amidst the botanical beauty of Sherman Gardens. This summer on Wednesday evenings they're offering hosting yoga classes in their Central Garden. Instructor Darnell Renee will lead the…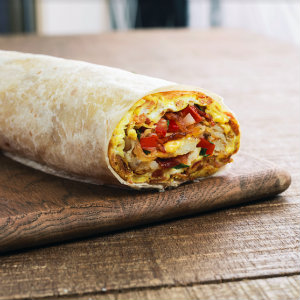 Farmer Boys Celebrates National Fry Day and Tax Day!
Times may be confusing, but Farmer Boys makes one thing clear: farm-fresh fare is always a good idea. In celebration of National Fry Day on July 13 and Tax Day on July 15, the award-winning burger concept is…