Beauty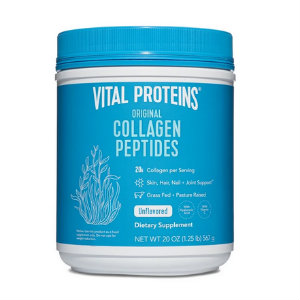 Collagen in a Bottle
03.08.20
At a certain point, aren't we all starting to think about collagen loss? I know I am. As we age, our body produces less collagen starting at about 25 and it's an important protein to help with skin strength and elasticity. As time goes by, collagen degrades, and then, voilà wrinkles appear.
What can we do? As it turns out, quite a bit. There's a bevy of professional skin treatments you can have done: lasers, micro-needling, and chemical peels to name a few. You can also avoid UV rays, wear sunscreen every day, avoid certain foods and stress. You can eat collagen-rich foods or foods that boost collagen, exercise regularly, try a topical collagen serum or cream, and thankfully there are collagen supplements that look promising.
Some studies show that regularly taking a collagen supplement can help improve skin elasticity. One of the highest-rated collagen supplements on the market is Vital Proteins' Collagen Peptides. Many people who take it regularly say their skin's overall appearance has improved. It's made from grass-fed, pasture-raised bovine hides, it's easily digested and absorbed by the body. The powder can mix well with hot or cold liquids so it's easy to drink every day.
Just a scoop of Collagen Peptides is enough to help give you a boost to support healthy hair, skin, nails, bone and joint health, muscle recovery, and more.
20 g collagen per serving - helps support overall health and wellness.
Whole30 Approved and Paleo-friendly
Free of gluten, dairy, and sugar.
You can find Vital Proteins' Collagen Peptides online and rumor has it, Costco sells it in a large container for a great price.
---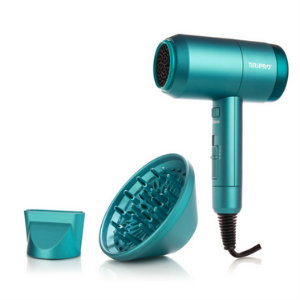 Upgrade Your Hair Drying Beauty Routine
03.08.20
In the market for a new hairdryer with state-of-the-art technology? Look no further than the next-generation Prisma Ionic Dryer from Tiri Pro. It's a luxury hairdryer that aims to leave your hair looking salon-worthy. Its technology offers adjustable airflow with an advanced Far Infrared ceramic heater.
The adjustable airflow seems to be the norm for most blow dryers, what sets this apart is the negative ions generated that even claim to repair hair during the drying process by quickly breaking down water molecules. And get this, it dries hair up to 60% faster than most hair dryers. Save precious time while drying your hair, you have to love this.
Its crushed tourmaline gemstone elements and ionic technology work together to reduce static and frizz, while simultaneously adding body, volume, and shine.
It also comes with two accessories: a SnapFit Concentrator Nozzle that concentrates airflow, allowing precision drying and a more polished finish, and a Diffuser Attachment for anyone with curly hair to boost curls and minimize frizz.
You can find out more and order one here.
---