Greer's Blog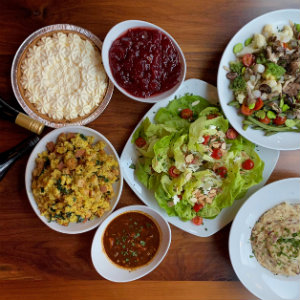 11.24.20
Russ Bendel's popular OC coastal restaurants, Vine, Sapphire, Ironwood and Olea, are offering a Thanksgiving Family Meal Box that provides everything but the turkey! Included in the package that feeds six for $149 are two bottles of wine (each priced at $40 on the restaurants' wine list) and a $20 promotion card for a future visit.
Guests are encouraged to preorder by calling their restaurant of choice. Meal boxes are available for pickup Thanksgiving morning between 9-11 a.m. Simple reheating instructions and containers are provided. Modifications are politely declined.
Several fine dining restaurants have picked up on the trend of families preparing their own turkey, then ordering the sides from culinary pros, eliminating the shopping, stress and time needed to prepare an assortment of dishes.
The Thanksgiving Meal Box, created by executive chef Jared Cook, feeds six and is priced at $149. It includes
Organic Sweet Gem Lettuce Salad with Meyer Lemon-Dijon Vinaigrette
House Made Mashed Potatoes and Forest Mushroom Gravy
Lacinato Kale & Sausage Stuffing
Farmers Market Heirloom Vegetables and Brussels Sprouts
Homemade Cranberry Sauce
Scratch Made Pumpkin Cheesecake
Two Bottles of Wine: Martin Ray Chardonnay and Angeline Pinot Noir
Also included as a token of appreciation is a $20 promotion card for future dining at the restaurant of choice (valid through July 2021. Good towards all food and beverage; no cash value, limit one card per visit)
An optional add-on is a liter of pumpkin Old-Fashioned Craft Cocktails, created by beverage director Gabe Whorley. Serves six generously on the rocks, $50.
Call and pre-pay at restaurant of choice:
Vine Restaurant & Bar 211 N. El Camino Real in San Clemente Call 949.361.2079 to preorder
Sapphire, Cellar. Craft. Cook. 1200 S. Coast Highway in Laguna Beach. Call 949.715.9888 to preorder
Ironwood, Cellar. Craft. Cook. 25250 La Paz Road in Laguna Hills. Call 949.446.8772 to preorder
Olea, Cellar. Craft. Cook. 2001 Westcliff Drive in Newport Beach. Call 949.287.6807 to preorder
---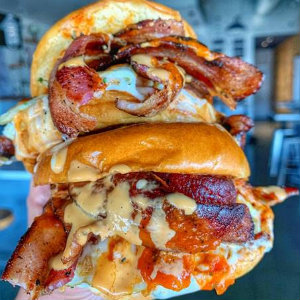 11.24.20
As Thanksgiving approaches, Slapfish in Huntington Beach continues to give back to the community and charitable causes, including extending special offers to those who are unemployed or in need. On Thanksgiving morning, Thursday, Nov. 26, from 9 a.m. to 12 p.m., the flagship location of Slapfish in Huntington Beach will offer a free breakfast sandwich or breakfast burrito to anyone who needs one. In addition, the casual sustainable seafood restaurant is accepting donations in any amount for Save The Brave, a non-profit organization that provides stress management and other support to veterans recovering from PTSD.
Since the Coronavirus outbreak started, Slapfish in Huntington Beach has extended its Kids Eat Free promotion to seven days a week, provided free lunch to 90 teachers in Huntington Beach, and has offered other specials to families in need.
Slapfish is a fast-casual restaurant offering a chef-driven menu of fresh, high quality and sustainable seafood.
The restaurant is located at 19696 Beach Blvd., in Huntington Beach.
---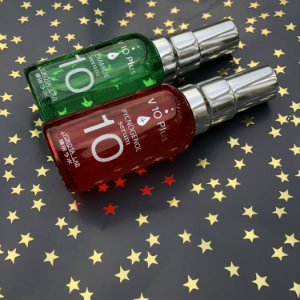 11.24.20
V10Plus USA, the Japanese skincare line with all-natural, cruelty-free, and clean ingredients is going all out on Black Friday and offering a 25% off sale on all products through Cyber Monday, on November 30.
Simply enter code "Holiday25" at checkout. Shop V10PlusUSA.com
Choose from V10Plus USA serums for acne, anti-aging, brightening, hydration, and sensitive skin. They also offer Cleansing Milk, All In One Gel, Day Milk Gel, Cleansing Ceramide, Night Gel, Sunblock SPF 40, Okinawa Deep Sea Water Mask, and much more.
Shop the entire collection at v10plususa.com/collectiol and use "Holiday 25" at checkout to save 25%. Follow V10Plus_USA on Instagram for specials and giveaways.
---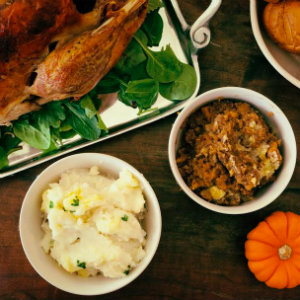 11.23.20
Celebrate the season of gratitude with family at Bistango in Irvine. Thanksgiving seating starts at 1 p.m. Thursday, Nov. 26 with live music at 5 p.m. Or, take Thanksgiving Home –advanced takeout orders accepted until Monday, Nov. 23. A Three-Course Prix Fixe is $55 per person. Children 12 and under $25 per person. Special prices on magnum wine bottles for take-home, as well as whole pumpkin cheesecakes!
A limited a la carte menu is also available. View the Thanksgiving menu here.
19100 Von Karman Ave, Irvine. 949.752.5222. info@bistango.com
---
More Greer