Greer's Blog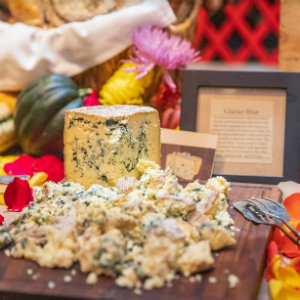 06.17.19
Cheese enthusiasts can look forward to SideDoor's bi-annual Ultimate Cheese & Charcuterie Backyard Party returning on Wednesday, July 17 from 5:30-8:30 p.m. Set in Five Crowns and SideDoor's picturesque outdoor patio and garden, the ultimate celebration of fromage is the culmination of SideDoor's popular monthly Cheese Takeovers and highlights all creameries featured in the series.
The final Cheese Takeover in the series takes place on Wednesday, June 19 starting at 4:30 p.m. and will present a curated portfolio of artisanal New England cheeses. For that evening only, featured cheeses will find their way into select SideDoor menu items. SideDoor's own certified cheesemonger, Tracy Nelsen, will be present at the Cheese Takeover and the Cheese Party to educate guests on the various cheeses showcased. A 5-piece cheese board is $28.
New this year, SideDoor will be collaborating with The Bruery for the Ultimate Cheese & Charcuterie Backyard Party. Specializing in barrel aged and experimental ales, the boutique, Orange County based craft brewery will have a representative on hand to offer guests the perfect beer pairings to complement their favorite cheeses.
Wednesday, June 19 – Cheese Takeover: featuring New England Cheeses from Various Creameries.
Hooligan: A ripe, washed rind stinky cheese | Cato Corner Farm, Colchester, CT
Mt Alice: A soft, creamy and savory cow cheese | Von Trapps Farmstead, Waitsfield, VT
Landaff: Has a natural rind and semi firm paste with brown butter notes | Landaff Creamery, Landaff, NH
Bonne Bouche: French for "good mouthful", an ashed soft goat cheese | Vermont Creamery, Websterville, VT
Nancy's Camembert: A blend of cow and sheep milk it is mellow with a nice tang | Old Chatham Creamery, Old Chatham, NY
Bandaged Bismark: An Amish farmer's sheep's milk that develops a caramel sweetness as it ages | Crown Finish Caves, Brooklyn, NY
Harbinson: A small, bark-wrapped bloomy rind cheese | Cellars at Jasper Hill, Greensboro Bend, VT
Wednesday, July 17 – Ultimate Cheese & Charcuterie Backyard Party: featuring all cheeses from February–June and beer pairing from The Bruery.
English Cheeses (February)
Hook's Cheese, Mineral Pt., WI (March)
Pennyroyal Farm, Boonville, CA (April)
Sweet Grass Dairy, Thomasville, GA (May)
New England Cheeses from Various Boutique Creameries (June)
Ultimate Cheese & Charcuterie Backyard Party ticket: $55 per person. Ticket includes unlimited samplings of all featured cheeses and charcuterie plus complimentary beer pairings. To purchase tickets for the Ultimate Cheese & Charcuterie Backyard Party, visit https://bit.ly/2wUZ2vK.
SideDoor is at 3801 East Coast Hwy in Corona Del Mar.
---
06.17.19
In its celebration of all things Mediterranean, AVEO Table + Bar at Monarch Beach Resort has introduced Paella & Sangria Wednesdays. AVEO Table + Bar delivers a distinct coastal luxury feel, drawing inspiration from Spain to Italy and from Greece to Morocco. The restaurant's new Paella & Sangria Wednesdays offer locals and travelers the perfect mid-week escape with summer sunsets and Pacific Ocean views.
Experience the best of the Mediterranean with this all-inclusive dinner experience for two or four. Begin with a refreshing tomato & cucumber salad and then enjoy Chef Donald Lockhart's shellfish paella with Spanish saffron rice complete with shrimp, scallops, clams, mussels, and chorizo. Priced at $99 for two and $198 for four, each guest can enjoy their choice of red or white sangria.
With views that span Monarch Beach Resort's Grand Lawn to the glistening waters of the Pacific Ocean, AVEO Table + Bar is the ultimate summer date night destination. Its terrace provides 180º ocean views and fireside seating, making it the perfect locale to catch the sunset over a glass of sangria.
To celebrate the start of summer, AVEO Table + Bar will also host its first International Wine Dinner on Thursday, June 20 at 6 p.m. Chef Donald Lockhart has prepared a four-course dinner paired with exclusive bottles from around the world. Embark on a culinary journey through Italy, New Zealand, and the coasts of California & Seattle.
Begin the evening with a sunset reception and sparkling wine by Taittinger's Domaine Carneros followed by a seated dinner of artfully plated dishes like Shellfish Bucatini Vongole and Duck Prosciutto. Priced at $120 per guest, reservations are required and can be made by calling 949.234.3900.
AVEO Table + Bar is open daily for breakfast, lunch, and dinner, and offers a prix-fixe weekend brunch on Saturday and Sunday.
One Monarch Beach Drive in Dana Point. For more information, visit monarchbeachresort.com
---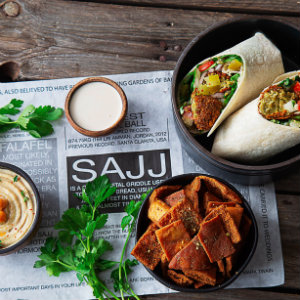 06.14.19
SAJJ Mediterranean is celebrating their one-year anniversary in Rancho Santa Margarita, and to thank guests for a fantastic first year, SAJJ will be offering 50% off ALL dine-in orders from June 17-30. Guests are invited to join in on the 1st Anniversary celebrations and enjoy healthy, customizable Mediterranean fare like buildable sajj wraps, pita sandwiches, rice or freekeh grain bowls, and salads.
Offer valid at Rancho Santa Margarita location for dine-in orders only.
Open 11 a.m. to 8:30 p.m. daily.
22245 El Paseo in Rancho Santa Margarita. 949.709.7779.
---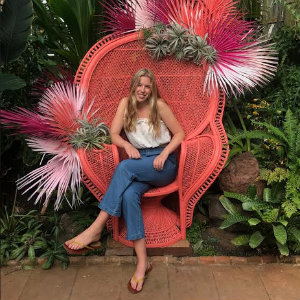 06.14.19
Come out to experience "Kickin' Back at Sherman Gardens," a summer exhibit of colorful, funky and oversized outdoor furniture on display throughout the gardens through September 22.
Climb into and onto colossal classic summer furniture pieces, including: a humongous hot pink Adirondack chair, a gigantic striped sling chair, a garden daybed with soft pillows, the tasseled tree hammock, an outdoor swing, and a retro rattan peacock chair embellished with palm fronds and Tillandsia.
Summer hours are extended too. On Sundays throughout the summer, Sherman Gardens will remain open until 8 p.m.
Chef Pascal Olhats is back in the kitchen with his all new Sunday Rosé Dinners. Café Jardin is open for Sunday dinners by reservation at 949.673.0033.
Sherman Library & Gardens is located at 2647 E. Coast Hwy. in Corona del Mar, California. For more information, visit slgardens.org or call 949.673.2261.
---
More Greer