Greer's Blog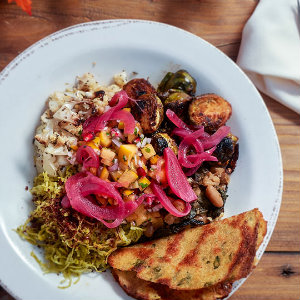 07.31.20
With over 4,000 square feet of al fresco dining, Farmhouse at Roger's Gardens invites you to relax outdoors while responsibly enjoying an award-winning cocktail or a seasonal, sustainably-sourced meal in the beautiful setting of Roger's Gardens.
Their takeout offerings including a Curbside Market with local ingredients and pantry staples, nourishing Family Meals, Taco Tuesday, weekly Farmer's Market Produce Boxes, cocktails and bottles of wine. Their all-day menu is available for both dine-in and takeout.
Curbside Pickup
Curbside pickup is encouraged. Simply pull up to the bar window and a staff member will bring your order to your car.
Family Meals are built for two, but they can customize them
to meet your needs, just let them know at the time you place your order.
The menu may vary depending on availability.
Baked Blue Crab, Parmesan, and Bread Crumb Stuffed Artichoke, $19
preserved Meyer lemon and dill, dijon horseradish, aioli dipping sauce
MENU:
Roast Jidori Chicken $36
roast carrots, cipollini onions, broccoli, peewee potatoes, chicken jus
Lemon Zest, Garlic, and Parsley Crusted Salmon $45
asparagus, sugar snap peas, roast leeks, Tehachapi grain project Sonora grain, balsamic jus, miso creme, chive oil, fennel watermelon radish relish
Grilled Dijon Soy Glazed Pork Tenderloin $50
parmesan potato cakes, braised red cabbage, apple raisin compote, applejack brandy sauce
Killer Meatloaf and Mashed Potatoes $45
roast carrots, green beans and cipollini onions, shiitake mushrooms jus
Garbanzo, Tomato, Curry and Coconut Milk Stew $45 (Vegetarian)
sautéed greens, Cauliflower couscous with leeks, asparagus, sugar snap peas, cipollini and roast shallot vinaigrette, roast satsumaimo sweet potatoes, grilled portobello mushroom, chimichurri, and pickled green mangoes, grilled pita bread
Take and Make Pizza for Kids $6
8 oz pizza dough, 2 oz pizza sauce, 4 oz mozzarella
Add pepperoni or veggies $2
Kale & Little Gem Lettuce Salad or our Farmhouse Market Salad, $5 per person.
2301 San Joaquin Hills Rd. in Corona del Mar.
---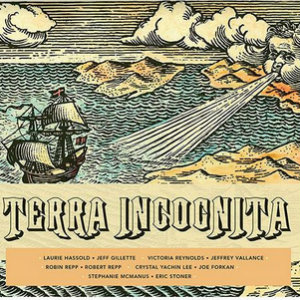 07.31.20
Orange County Center for Contemporary Art presents Terra Incognita an exhibition of artist couples running from Aug. 1 to Aug. 29. Join a panel discussion & online reception on Zoom on Sunday, August 2 from 7 to 8:30 p.m. Click here to join the online Zoom Meeting reception.

The exhibition Terra Incognita (The Unknown Land) explores the creative terrain occupied by artist-couples. Sometimes the couples collaborate on the same project. More likely, they work alone. Many provide inspiration for each other through shared adventures, traveling thousands of miles together to develop ideas for new work, typically interpreting the experience in completely different ways.

Terra Incognita takes us behind closed doors into the private studios of several significant local artist-couples. It is true, an "unknown land" exists in every relationship, but for artist-couples, it's vast.

Artists Joe Forkan, Jeffrey Gillette, Laurie Hassold, Stephanie McManus, Robert Repp, Robin Repp, Victoria Reynolds, Eric Stoner, Jeffrey Vallance, Crystal Yachin Lee.
Private gallery visits are available by appointment only.
For more information visit, info.occca@gmail.com.
OCCCA Orange County Center for Contemporary Art is at 117 N. Sycamore Str., in Santa Ana.
---
07.30.20
The Rooftop Lounge, perched atop the historic La Casa Del Camino Hotel, is once again serving brunch Saturdays and Sundays from 11 a.m. to 3 p.m.
The local favorite, and a must-see for visitors and tourists, which underwent a complete renovation and rebrand in Summer 2020, offers an all-new brunch menu, featuring classic dishes with a Southern Californian twist. Guests can select from favorites such as Breakfast Tacos (beef short ribs, green bell pepper, onions, avocado, black beans, fried egg and Cojita cheese) and Raspberry French Toast Crème Brulée (Texas toast dipped in crème brûlée batter filled with fresh raspberries served with maple syrup)-- all served in a charming and inviting outdoor setting.
For more information, visit rooftoplagunabeach.com or call 855.990.0282.
1289 S. Coast Highway, 4th floor in Laguna Beach.
---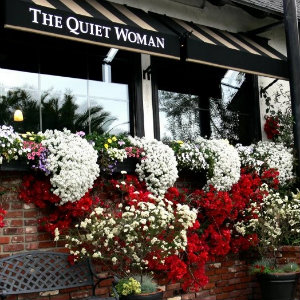 07.30.20
The Quiet Woman in Corona del Mar just reopened for service. They have been constructing patio dining and have reservations available on Open Table or by phone. Pick-up/Takeout/Curbside is also available. Their schedule is as follows:

For the next two weeks, they will offer dinner Wednesday-Saturday from 5 p.m. to 9 p.m.
After that – brunch, lunch, & diner Wednesday to Saturday 12 p.m. -8 p.m. and Sun 11 a.m.- 3 p.m.
3224 Pacific Coast Highway in Corona del Mar. 949.640.7440.

---
More Greer