Greer's Blog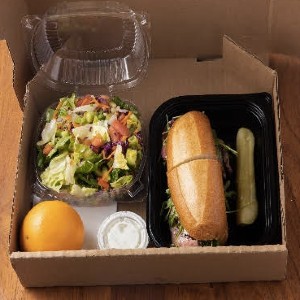 05.11.21
Stonefire Grill, Southern California's fast-casual dining destination known for its generous portions of scratch-made, classic American-inspired dishes and time-honored recipes, is bringing back the sandwich—a sub, a club and a stack--to its menu. The trio, created by Executive Chef Taylor Boudreaux, will be available at all 12 locations throughout Ventura, Los Angeles, Orange and San Bernardino Counties as well as Stonefire Grill's sister restaurant, Rattler's Bar B Que, in Santa Clarita.
Guests can savor:
Tri-Tip Chimichurri Sub -- slow-roasted tri-tip topped with crumbled feta, pickled red onion, crisp arugula and Stonefire's signature chimichurri aioli piled high on a fresh artisan-style roll. $12.69 a la carte, $13.59 Boxed Meal
Roasted Turkey Club – all-natural turkey breast (no antibiotics, hormones, or sulfates) topped with hardwood smoked bacon, slow-roasted Roma tomatoes, crisp arugula, pesto aioli and brie placed between an artisan-style roll. $12.79 a la carte; $13.70 Boxed Meal
Roasted Vegetable Stack – served chilled with roasted red bell pepper, lightly charred zucchini and yellow squash, pickled red onion and pepper jack cheese stacked on a fresh artisan-style roll and schmeared with a black bean puree coupled with Stonefire signature chimichurri aioli with a crowning of fresh cilantro. $10.99 a la carte; $11.99 Boxed Meal
While each sandwich is uniquely different, all are served on artisan rolls provided by Los Angeles-based Larder Baking Company whose co-founder is celebrity chef Suzanne Goin of Lucques fame. Many of the farm-fresh vegetables are also locally sourced, which Chef Boudreaux feels is important.
While the sandwiches can be ordered a la carte, the boxed option offers a complete meal and includes a dill pickle and a choice of Gramma Tay's Potato Salad, a garden or Caesar salad, or Zapp's VooDoo Kettle Chips, a favorite from Chef Boudreaux's childhood and Louisiana upbringing.
Stonefire Grill's trio of new sandwiches and boxed meal options are available at all 12 locations as well as Rattler's Bar B Que, Stonefire's sister restaurant in Santa Clarita. For more information or to find a Stonefire Grill near you, visit online at stonefiregrill.com.
---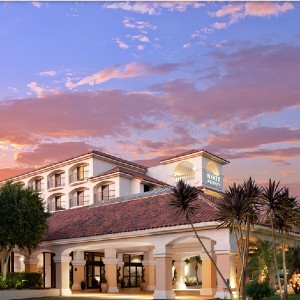 05.11.21
Visit Conejo Valley is offering qualifying visitors a $100 travel Visa gift card upon hotel check-in at one of the 16 participating hotels in Agoura Hills and Thousand Oaks. Visitors must travel now through June 30, 2021, by booking a minimum 2-night stay. The Visa gift card cannot be used toward your hotel stay and limited promotion honored on a first-come, first serve sign-up basis.
Participants must register for the program using this link.
Conejo Valley has many things to discover and explore, located only 45 minutes west of Los Angeles.
Conejo Cash can be used for a dinner date with beautiful views of Ladyface Mountain, horseback riding, beer and wine tasting, or shopping at one of our outdoor centers. Lindero Country Club is open for Traditional Golf and Footgolf, which is a combination of soccer and golf played with a regulation #5 soccer ball at a golf course facility on shortened holes with 21-inch diameter cups. For those who love outdoor activities, Conejo Valley is home to over 150 miles of trails for hiking, biking, and equestrian use. Serious Cycling is open for renting and greatly enhances the ability to enjoy the love of cycling. The possibilities are endless for many adventures to be had.
For visitors looking for lodging, visit: conejo.com/stay
---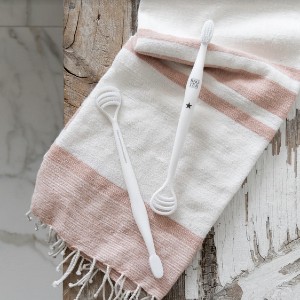 05.10.21
Just in time for a bright, clean, and truly healthy summer smile, Dr. Bao-Thy Grant, an Orange County Oral and Maxillofacial surgeon and team oral surgeon to the Anaheim Ducks, has launched Bao Tea, an oral care company with the first-ever All-in-One Toothbrush and Tongue Cleaner.
Dr. Grant notes that a healthy mouth and tongue can be linked to our overall health, so she designed an all-in-one tool to make brushing your teeth and tongue an easy, all-in-one step. The new All-in-One Toothbrush and Tongue Cleaner is meant to intuitively remind users every time they brush that cleaning your teeth and tongue are equally important to overall health.
The BPA-free All-in-One Toothbrush and Tongue Cleaner is a toothbrush with ultra-soft nylon bristles on one end with the four-tiered tongue cleaner on the other. To attack bad breath and odor-causing bacteria at the source, the tongue cleaner is designed to brush and scrape debris present on the two surfaces of the tongue.
Designed to avoid unnecessary bacteria, Bao Tea also launched a hygienic holder, the Universal Manual Toothbrush Holder, to protect, secure, and elevate any manual toothbrush by using the holder's suction-grip cups to allow the toothbrush to hang on a mirror, in a drawer, a medicine cabinet, or the shower while at home or traveling.
"Because research links a healthy mouth with our overall health, my mission is to help people stop undervaluing their oral hygiene and realize it is a key part of our general health and well-being," says Dr. Grant. "The tongue is an integral but often overlooked part of oral care and your health. I am passionate about helping people change their daily routine by adding a tongue cleaner to everyday brushing."
The All-in-One Toothbrush and Tongue Cleaner ($14.95) and Universal Manual Toothbrush Holder ($8.95) are available at www.baotea.com and on Amazon. The Bao Tea All-in-One Toothbrush and Tongue Cleaner has been recognized with an ADA Seal of Acceptance. The ADA Council on Scientific Affairs' Acceptance of the Bao Tea All-in-One Toothbrush and Tongue Cleaner is based on its finding that the product is safe and has shown efficacy in removing plaque and helping to prevent and reduce gingivitis when used as directed.
Founded by Board-Certified Oral & Maxillofacial Surgeon Dr. Bao-Thy Grant, Bao Tea is an oral care company focused on products designed for optimum oral health, including the patented All-in-One Toothbrush and Tongue Cleaner. As a first-generation Vietnamese-American and Southern California native, Dr. Grant has a leading an oral surgery practice, Center for Oral Reconstruction and Education, is the team Oral and Maxillofacial Surgeon to NHL's Anaheim Ducks, and pioneered the Yomi Robot-Assisted Dental Surgery, advancing the state-of-the-art robot-assisted surgical techniques for the benefit of dental patients. www.baotea.com
---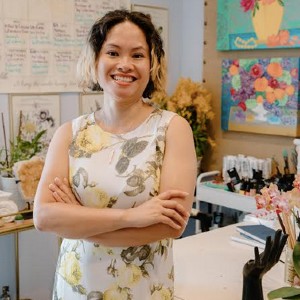 05.10.21
Come join local Huntington Beach-based artist Helen Plehn for an expressive painting class at Sherman Gardens on Tuesday, May 25 from 10 a.m. - noon. You'll paint vibrant roses, peonies, and delphinium in a blue and white chinoiserie vase. You'll also be guided to do a 15-minute flower visualization meditation while waiting for the acrylic paint layers to dry. You'll take home a gorgeous finished 8" x 10" canvas painting, and the set of paint tubes supplied for each student. All materials included. Class is designed for all levels of painters and non-painters.
Fee $90 Members, $100 Non-Members
Class size is limited for physical distancing. Pre-registration required for all classes. To register, visit thesherman.org or call 949.673.2261.
2647 East Coast Hwy, Corona Del Mar.
---
More Greer