Dining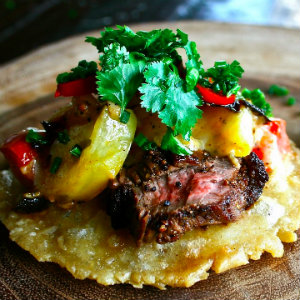 Introducing ARC Pizza House
The husband-and-wife team, Chef Noah and Marín von Blöm have introduced ARC Pizza House featuring a menu of unique wood-fired pizzas, at Costa Mesa's South Coast Collection. This new concept is now an extension of the acclaimed restaurant, ARC, and is located in the space formerly occupied by Restaurant Marin, which will be relocating to a new home on the Newport Beach Peninsula in early 2018, when the von Blöms' DirtySexyHappiness Hospitality Group will debut a new culinary concept.
Chef Noah Blöm brings his signature style to create eight original pizzas. Offerings range from The House Pizza Pie with housemade sausage, pepper and mushroom, and The Cheeeeseee Pizza with queso fresco, mozzarella, parmesan and goat cheeses, to the more adventurous Roasted Duck Pizza with romesco, olives and goat cheese, and the Shortrib Pizza with bleu cheese, Fresno chiles, basil, and parmesan.
The menu, offered from 11 a.m. to 11 p.m. daily, also features three salad offerings with a Chopped Salad with roasted chicken, Chef's Salad with smoked salmon, and refreshing Strawberry Salad. Diners also have access to ARC's lunch and dinner dishes.
The ARC beverage program will extend to ARC Pizza House. Guests can experience inspired cocktails, housemade sodas, and fresh craft juice blends that change with the seasons, or partake in European wine and beer selections meant to complement the menu of wood-fired pizzas.

ARC Pizza House is open daily from 11 a.m. to 11 p.m., serving Lunch and Dinner. It is an extension of ARC Food & Libations.
At South Coast Collection in 3321 Hyland Avenue, Suite G in Costa Mesa.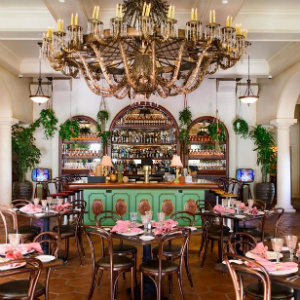 Beloved Cuban Eatery, Habana at Irvine Spectrum
Easily the most exciting restaurant of late is the new Habana Irvine at Irvine Spectrum. For over 20 years, Habana at the Lab in Costa Mesa has offered outstanding and authentic Cuban fare, and now with Habana Irvine, there's just more to love. Habana Irvine offers an exciting and romantic vibe—complete with an onsite bakery and exclusive cafecita. It's the next best thing to being in Cuba in its heyday.
Lead by executive chef Alex Moreno, Habana offers Cuban-inspired fare, ranging from seafood ceviche starters to a hamburguesa a la Habana, a grilled 8 oz. beef patty, American and Manchego cheeses, caramelized onion, crispy potato, dill pickle, lettuce, tomato and Habana secret sauce on brioche bun. Habana is known for its Paella a La Habana, along with the key lime pie, house made bocaditos, ropa vieja and more.
You'll love the Bakery Habana that offers an array of authentic Cuban pastries baked fresh daily. Habana's talented Pastry Chef Katherine Russ provides outstanding bites to be enjoyed in-house or to-go. With its own entrance, Habana Irvine's cafecita is easily accessible, and offers its own inviting ambiance. Along with the house made pastries, you can enjoy exclusive, aromatic and rich coffee blends. These roasts can be sipped at the bakery, or taken home to be brewed, but can only be found at Habana Irvine.
Habana Irvine will also offer an exclusive Cuban style craft beer, Hatuey. This 100-year-old famous ale was first brewed in Santiago, Cuba in 1914. Pair this unique brew with their Media Noche sandwich with low roasted pork shoulder, jamon, Swiss cheese, dill pickles, roasted garlic yellow mustard aioli in a pressed sweet roll, and you're sure to leave satisfied.
Open 10 a.m. to 9 p.m. Monday through Thursday; 10 a.m. to 11 p.m. Friday and Saturday; 10 a.m. to 8 p.m. Sunday.
Habana Irvine is at the Irvine Spectrum at 709 Spectrum Center Drive in Irvine.