Beauty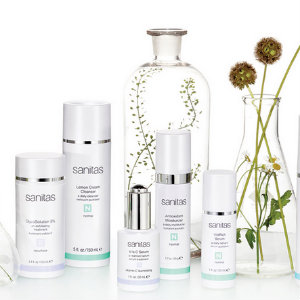 Sanitas Progressive Skin Health Made in Boulder, CO
10.16.17
I just discovered Boulder, Colorado based Sanitas Skincare, a collection of skin care that I just love. This line tackles just about every skin concern that you can imagine. It's not a one size fits all collection. They make products for discoloration, dryness, oily and blemish prone, and aging skin to name just a few. Cleansers, scrubs, exfoliants, masks, serums and mists are just some of the products that they offer.
Sanitas Skincare began with one product: Topical C that's still its top-seller. It was created to successfully treat a critically burned patient using biogenic technology to mimic the skins ability to heal itself. The topical skin treatment also helps reverse the signs of aging and improves overall skin health. I've been using the Vitamin C Serum and Antioxidant Moisturizer daily and it's helping my skin with hydration, diminishing fine lines, and its brightening.
Just a few of its key ingredients include Borage oil that provides high levels of GLA and aids in skin moisturization; Mulberry extract an antioxidant that helps diminish age spots and brighten skin; Lipophilic vitamin C a powerful antioxidant that brightens and promotes skin renewal; and Mafura seed butter that helps calm, relieve redness and encourages skin renewal.
You can find the entire collection at Sanitas-Skincare, or find it locally at the following Orange County based skin clinics and salons.
Healthy Beautiful Skin & Tan is at 5011 Argosy Avenue 12B Huntington Beach. 714.625.7402.
Avanti Skin Clinic is at 1031 Rosecrans Avenue, Suite 102 in Fullerton. 714.732.2933.
Joshua Christopher Salon is ta 363 Imperial Highway in Fullerton. 714.879.3932.
---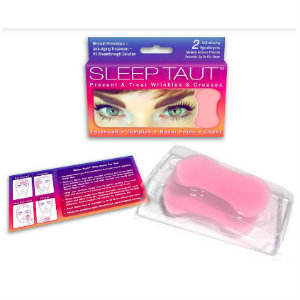 SLEEP TAUT prevents and treats wrinkles and creases
09.13.17
Orange County based Sleep Taut is a new beauty treatment designed by Andrea Harsany who realized that she'd lost enough collagen that she was developing wrinkle lines from pillow creases that lasted for hours and even an entire day. She invented Sleep Taught to prevent and treat wrinkles and creases. They're simple to use: the adhesive surgical silicone pads are soft and comfortable---you just apply them to wrinkle prone areas of the face and chest before bed.
Sleep Taut is designed to treat wrinkles while you sleep with silicone's hydrating, collagen building, skin-firming benefits and overnight results.
Each box comes with two Sleep Taut surgical silicone adhesive pads that are reusable up to 45+ times with proper use, and two stack-close storage backings.
Sleep Taut is available online at sleeptaught.com
---