Greer's Daily Dose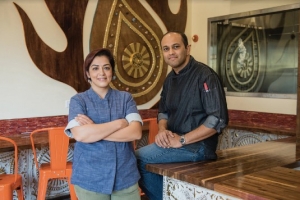 ADYA Donates 100% of Sales to Support COVID-19 Relief Efforts in India
05.10.21
In an effort to support the COVID-19 relief efforts in India, ADYA Chefs-Partners Shachi Mehra and Sandeep Basrur will donate 100% of restaurant sales from Monday, May 10 through Sunday, May 16 to the American India Foundation (AIF). This effort is near and dear to Chefs Mehra and Basrur, both having been born in India.

"There's a feeling of helplessness when we receive updates from our families in India and see the devastation throughout India from news reports and social media," explains Chef Mehra, who revealed that the restaurant decided to donate every penny from the sales for a week in an effort to encourage more diners to show support. "There's no denying that the past year was rough for ADYA, but nothing comes close to the devastation happening in India right now."

According to AIF, India is in the throes of an unparalleled emergency with the world's highest tally of COVID-19 cases and number of deaths. Amidst flailing health infrastructure, pushing the country to its breaking point, the organization is raising funds to provide relief in this fight to save lives.

In 2020, AIF reached more than 500,000 people with protective gear and nearly 900,000 individuals with prepared meals and ration kits. Now, they are once again helping in sending supplies of medical oxygen to India, amid rising demand for beds, as a fast-spreading second wave of coronavirus devastates through the country. AIF is working with local governments, hospitals, and stakeholders to understand the needs from cities to rural villages. Their more than 20 years of working within these systems and their expansive network allows them to quickly direct equipment to where it is needed.

"Our hope is that those who are able to will join us for at least one meal during our weeklong fundraiser," continued Chef Mehra. "Guests can join us at either ADYA Anaheim or Irvine, dine-in or carryout their meal – ALL of our restaurant sales for the week will be donated to make even a small difference in our beloved India."

Those interested in supporting Indian relief efforts may dine at ADYA Irvine at the University Center and ADYA Anaheim at the Anaheim Packing District from Monday, May 10 through Sunday, May 16. The restaurant will donate 100% of all restaurant sales (including dine-in and takeout). The public is also invited to learn more about American India Foundation (AIF) and make donations online at https://aif.org/donate/covid-19-response/. Those who cannot show support financially are invited to spread awareness for ADYA's fundraising effort via social media by using #ADYAsupportsINDIA.
---
More Daily Doses