Greer's Daily Dose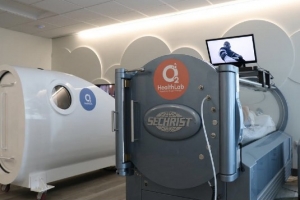 Anti-Aging, Peak Performance, and Recovery with O2 Health Lab
04.28.21
Be Amazed! You're invited to an exclusive, complimentary tour and wellness consultation at O2 Health Lab in Newport Beach near Fashion Island.
This revolutionary concept is unlike any existing Wellness or Beauty facility. O2 Health Lab combines pioneering biohacking technologies, cutting-edge internationally lauded wellness therapies in a relaxing, Zen, transformational environment.
Their aim is to give your body the things it needs to take care of itself - whether it is increased oxygen, infrared light, cellular repair, brain rejuvenation, or a cold jolt of cryotherapy. O2 has the tools you need to look, feel and be your best self.
Accelerate healing from surgery or injury, lower stress levels, rejuvenate the brain, revitalize your skin, achieve peak performance or target a specific health condition - the O2 team will be by your side to help you achieve whatever your health goal might be.
The powerhouse at O2 Health Lab is Hyperbaric Oxygen Therapy. Backed by thousands of Medical Studies, "Hyper Oxygenation" using a Hyperbaric Chamber can provide the body with a variety of amazing health and beauty benefits including boosting the speed of recovery, a more youthful appearance, increased cognition, decreased inflammation and assisting in overcoming a bevy of health conditions.
Check out a Video Tour here.
As an exclusive offer to Greer's OC readers…
Book your complimentary consultation and Tour at 949-541-2000 ext.1 (mention Greer's OC) and receive a FREE Circulation Station Treatment (includes Avacen Thermo Therapy, PEMF Therapy, and Compression Boots). Must be booked in advance.
O2 Health Lab is Open 7 Days a Week:
Monday - Saturday: 8 a.m.- 6 p.m.
Sunday: 9 a.m.- 5 p.m.
230 Newport Center Drive, Suite 120 in Newport Beach. (Located on the back side of the FedEx building near Strawberry Cafe). 949.541.2000, ext. 1 or visit O2HealthLab.com
---
More Daily Doses