Greer's Daily Dose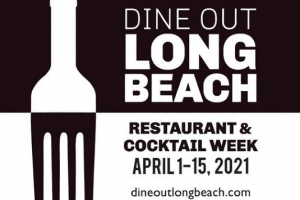 Dine Out Long Beach 6th annual Restaurant & Cocktail Week
03.31.21
SoCal foodies who want to dine out or take-out will not want to miss out on the 6th annual Dine Out Long Beach, Restaurant & Cocktail Week taking place April 1-15.
Dine Out Long Beach, Restaurant & Cocktail Week, now taking place for two weeks from April 1-15, is a celebration of food, wine, beer, and spirits. This year sponsors were given an opportunity to "adopt-a-restaurant" to help offset registration fees for restaurateurs.
"It's been a difficult year for our culinary community," said Elizabeth Borsting, founder and organizer of Dine Out Long Beach, Restaurant & Cocktail Week. "But we are confident that foodies, oenophiles, and friends, in general, will come out to support our restaurant owners, chefs, bartenders, and sommeliers during Restaurant & Cocktail Week. It's an excellent time to try a new restaurant or revisit a favorite eatery and, of course, in addition to in-person dining there will also be options for take-out and meal kits with wine, beer and cocktails to-go."
Diners can enjoy an array of menu options, from two-selection breakfasts and lunches to small plates and wine, beer, or cocktail pairings. There is also shared meals for two, chefs' tasting menus, take-out options and more. No tickets needed – just dine out or take-out at any participating restaurant.
Dine Out Long Beach will showcase some of Long Beach's best restaurants from across the city – from casual to fine dining. Participating restaurants to date include:
This year Dine Out Long Beach has partnered with the California Restaurant Association's non-profit organization, Restaurants Care, which provides relief and stability to struggling California restaurant workers. Guests can show their support during Dine Out Long Beach by ordering an "imaginary" menu item, such as "Imaginary Nachos" or "Imaginary Breadsticks" from a participating restaurant. These "Imaginary" offerings have zero calories and cost very little "dough" to help nourish displaced restaurant workers throughout the state. The "Imaginary" items are actually a $2 donation to the Restaurants Care fund, which has helped such Long Beach eateries as The Reef, Rasselbock Beer Garden, Panxa Cocina, SusieCakes, Ola Mexican Kitchen, and Jade on the Water.
For more information, visit dineoutlongbeach.com or call 562.856.9292.
---
More Daily Doses