Greer's Daily Dose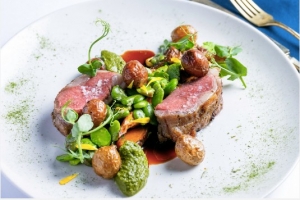 New Dishes Reveal At Lido Bottle Works
05.19.21
Do you love to read menus prior to going out? If yes, this is up your alley. Lido Bottle Works, one of the best restaurants for seasonal cuisine in Orange County, with an added bonus of a waterfront view, just debuted new menu items thanks to Executive Chef Joel Guiterrez
Now that he's been at the helm of Lido Bottle Works for a few months, he's added a set of dishes with a focus on hyper seasonal ingredients perfectly-paired with local craft beers and California wines. You can still order the hits: Potato Chorizo Croquettes. Curried Beef Meatballs, and Pork Belly Bao Buns, and you'll want to save room for the irrestible Pear Crumble with poached pear, vanilla custard, and honeycomb crisp.
One of the many reasons to love Chef Joel is that he finds ways to use ingredients in new and different ways. He uses the greens of spring onions as allium oil for the hummus and pea pods as stock to fortify the pea cream sauce for the gargenelli.
Chef Joel's new dishes:
HUMMUS / roasted asparagus / vadouvan sauce / lavash - Cooked garbanzo beans, tahini, roasted garlic, and lemon juice are blended twice
to achieve silky, smooth hummus. Asparagus, green garlic, spring onion are coined and roasted. Vadouvan Sauce is a French curry mixture consisting of curry powder, cumin, Turmeric, mustard seed, cardamon, clove, and dehydrated green onion. The roasted veggies and Vadouvan sauce are tossed together; hummus is put in the bowl first, then the vadouvan mixture is placed on top. The dish is finished with allium oil Maldon salt. Served with lavash.

GARGANELLI / pancetta / English peas / pecorino cream - Garganelli is made by hand with standard egg yolk pasta and is cooked to al dente.
It's rolled with a spindle on a gnocchi board. Pancetta is rendered down to crisp. Pea stock, pecorino, pea puree, and a splash of cream are cooked down to create pea cream sauce. Pecorino cream is passed through an ISI canister to aerate. Cooked pasta, pea cream, fava beans, peas and pancetta are tossed together. Pasta is plated in a circle; pecorino foam is placed in the middle of the circle. Fava leaf ash is dusted on the plate. Garnished with pea flowers. Can be made vegetarian by taking the pancetta out.

MARY'S CHICKEN / smoked asparagus dashi / oyster mushroom / snap pea -- Mary's Chicken Leg is cured overnight and then confit with garlic and shallot; chicken breast is pan seared—skin is seared crispy to order. Dashi is made with asparagus stock, kombu, and bonito flakes. The dashi is then smoked by dropping super-hot stones and into the liquid, creating smoked flavor when the stones are submerged. This method comes from the old-world brewing process of steinbier ("stone beer"). The vegetables are lightly poached in the dashi and then poured into the bowl. The crispy chicken is placed on top of the vegetables. Garnished with fava leaves and flowers.

SALMON / pearl barley / English pea / garlic yogurt - Scottish Salmon is served skin off and pan roasted to medium. Pearl barley, English peas,
fava leaves, and pea stock are sauteed together. Roasted garlic yogurt is plated in the middle of the plate; tarragon oil is floated on top. The barley mixture is placed in a crescent shape. Pan-roasted salmon is rested against the barley; the plate is dusted with fava leaf dust and garnished with pea tendrils.

30 DAY DRY AGED PRIME RIBEYE / 24 oz. / crispy pee wee potatoes / beet top and green garlic chimichurri - Dinner for 2. Prime ribeye is dry aged to concentrate beef flavor; this process also adds a depth of flavor. It is pan seared to guests desired temperature (chefs' preference is Medium Rare). Pee Wee Potatoes are fried until crispy and then tossed in dehydrated green onion and salt.
The Ribeye is sliced then topped with a beet top and green garlic chimichurri drizzle. Crispy potatoes are plated next to the steak. Maldon Salt to finish.

LAMB SADDLE / Fava Beans / Rhubarb Lamb Jus/ Stinging Nettle Salsa Verde - Lamb saddle is broken down and extra fat is then rolled around the loin. Lamb is seared to render fat. Pee wee potatoes are confit in oil with garlic, shallot, rosemary, and thyme. Fava beans are sauteed with Thumbelina carrots and spring onion. Rhubarb Lamb Jus is made from bones of the saddle and juiced rhubarb. To plate, the lamb saddle is sliced and placed around the fava bean mixture. Rhubarb lamb jus and stinging nettle salsa verde are poured next to the lamb. Garnished with fava shoots.
Open 11 a.m. to 9 p.m. Sunday to Thursday; 11 a.m. to 10 p.m. Friday and Saturday.
3408 Via Oporto #103, Newport Beach. 949.529.2784.
---
More Daily Doses