Greer's Daily Dose
Educating Jack and Milly: One Cookie At A Time
06.01.11
Join OC Mart MIX and Greer's OC for the launch party for "Educating Jack and Milly: One Cookie At a Time" Thursday, June 9 from 6 to 9 p.m. Greer Wylder will be debuting the new Jack and Milly chocolate chip cookie baked at Blackmarket Bakery in Irvine.

Purchase a cookie, and you'll help change the lives of two young Kenyans by sending them to a university. Greer Wylder met Jack and Milly on a month-long volunteer trip last year to their small village in western Kenya. A college education is allowing them and their families to escape a life of poverty (they live on about $1 per day in a small village with no electricity or running water.)

Greer has already raised enough money ($4,000) that's allowed them to enroll in a university in Nairobi, However, more funds are need to allow them to continue their education. Please consider changing the future of these two bright and caring Kenyans by attending the launch party. All proceeds will go toward their education. Enjoy wine; foods from Rasta Taco and Taste Buds, and live music by Nicole Vaughn. First 100 RSVP's receive a free gift at the door: RSVP at gretchen@greersoc.com.

OC Mart Mix is at SOCO at 3311 Hyland Ave in Costa Mesa.
A Harvest of Hope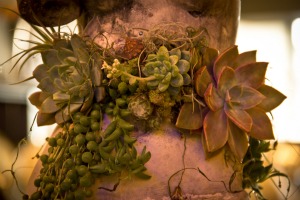 The highly anticipated 3rd annual Harvest of Hope garden event in Newport Beach returns Friday through Sunday in support of providing sustainable and well-being to local and global communities. Shop from one-of-a-kind home and garden items, attend free sustainable-living workshops and much more. A donation of $5 is suggested for admission. Proceeds will benefit the Orange County Food Access Coalition and A Self-Help Assistance Program (ASAP) operating in Zimbabwe and Malawi.

You can be the first to shop from one-of-a-kind wares at a preview wine and shopping event Thursday from 6 to 10 p.m. Special guest Chef Nikki Shaw (wife of assistant Lakers' coach Brian Shaw) will be doing a cooking demo; enjoy cheese from the new shop Vin Goat in Corona Del Mar; wine by Oak Ridge Winery; BJ's handcrafted beers, a silent auction, incredible organic slim margaritas by Sol Cocina and more.
The preview event will cost $25 donation gives you a raffle ticket for a chance to win an incredible item.

Harvest of Hope is open 11 a.m. to 5 p.m. Friday; 10 a.m. to 5 p.m. Saturday; and noon to 4 p.m. Sunday.
Harvest of Hope is located at 2201 Santiago Drive in Newport Beach. For more information, visit aharvestofhope.com.
---
More Daily Doses