Greer's Daily Dose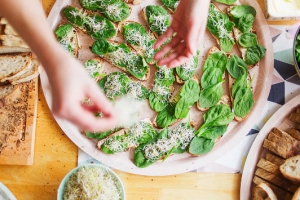 Get Cooking Now at chefschool
10.04.16
Have you always wanted to learn how to cook, or simply want to improve your skills? chefschool is a cooking school at the Hood Kitchen in Costa Mesa that specializes in hands on professional and recreational courses for anyone interested in improving their cooking skills and it's ideal for every level of cook.
Courses focus on kitchen safety, history, and proper technique, using seasonal ingredients—always local and organic when possible—in a working, professional kitchen. chefschool offers a diverse selection of culinary courses. Expert chefs conduct hands on instructional courses that include a lecture, demonstration, and cooking participation—wrapping up the class by eating the delicious food that you've made!
Classes range from a basic one session recreational class to a 20- week professional cooking program, including children's cooking camps, team building events, and private parties. Recreational Courses are offered in a variety of subjects, featuring seasonal produce and focusing on proper technique. Classes generally run for three hours and are all hands on, so students truly learn through participation. To ensure an optimum teaching environment, the class size is limited to 12 students.
We are offering a giveaway to the Autumn Pie Workshop on Oct. 29 from 10 a.m. to 1 p.m. for one lucky reader and their guest. Simply leave a comment on our Greer's OC Facebook or Instagram @dailydoseoc, and we will select the winner on Monday, Oct. 10.
In this class, you'll learn how to master the perfect tender and flaky crust, sample a few pies, and and take one home for later. You will make double crust apple, pear cardamom crumble, and butterscotch apple pecan. A light meal will be served while the pies are baking. Each student makes a double crust apple pie to take home.
For more information and how to register for classes, call Chef Heidi Ristau at 714.474.6147 or email at info@chefschooloc.com or heidi@chefschooloc.com
The Hood Kitchen is at 350 Clinton Suite A in Costa Mesa.

---
More Daily Doses