Greer's Daily Dose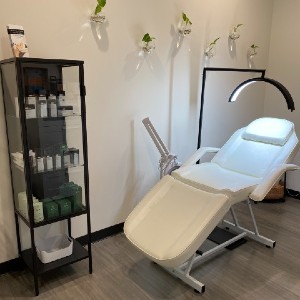 Get Your Skin Summer Ready at OC Skin Vibes
04.07.21
OC Skin Vibes is the newest skincare oasis to just arrive in Orange County. It's a woman-owned and operated business by Sasha Young who is a licensed esthetician and twice certified specialist in permanent makeup. Sasha is so passionate about skin and helping her clients look and feel their best that she took a leap of faith and switched careers and opened during the pandemic.
"In my previous career, I was in the financial industry for close to 23 years. What made me decide to change careers? Good question! It was being laid off three times from 2016-2019. It was time for me to choose me. So, I took a chance on myself and decided I wanted to do what I was most passionate about, skincare. I love products, I love permanent makeup, I love seeing my skin change and therefore I wanted to share my findings and passion with my clients," said Sasha. "I can talk beauty for days on end, which is why this job is so perfect for me."
Sasha thrives on creativity so she gets creative with Microblading and Lip Blushing. With age, eyebrows thin out and collagen and pigmentation deplete in our lips. Sasha can enhance your brows and make them as natural as possible and she can add pigment to lips to give the illusion of fuller lips!
Sasha also helps clients who have skin issues with corrective skincare (hyperpigmentation, acne, oily skin, and aging skin) and she's a huge advocate for peels. Peels change your skin.
The peels she offers do NOT leave you walking out with a red face, but rather you will walk out glowing! We all have our insecurities about our skin, but she can help you fix that!
I just tried her CBD Facial and I loved every minute of it. My skin is brighter and glowing! It was my first facial in over a year. This treatment incorporates a CBD HydroJelly mask, dermaplane, brightening enzyme treatment, chemical treatment, a variety of CBD skincare products, and correctors. CBD is great for all skin types assisting in anti-aging, discoloration, inflammation, acne, oily skin, dehydrated skin and provides so many amazing benefits to the skin. CBD products in this facial are also sold in the studio.
Book your next skincare appointment with Sasha and receive 20% off your first service! You can view her entire menu of services and find out more at ocskinvibes.com.
95 Enterprise Ste. #110 in Aliso Viejo. 949.337.5678 or Sasha@ocskinvibes.com
---
More Daily Doses