Greer's Daily Dose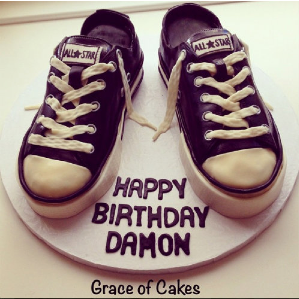 Grace Us With Cakes
05.26.15
For nearly a decade, she's been a high school counselor by day at Newport Harbor, and baker by night. Grace Nguyen, 38, has guided students on their journey through high school and beyond. She's a go to girl for student's academic planning and college counseling, even helping with social and emotional needs, crisis counseling, and some with risk interventions. She's even helped a few of my sons tremendously.
Yet, in her off hours, Grace Nguyen transforms into Grace of Cakes, whipping up dream cakes with flawless designs on par with some of the best cakes you'll ever taste. She's a self-taught baker and is experimenting and perfecting recipes all the time. She rents out a commercial bakery and goes to town on her to do list of custom designs, as well as baking vegan pop tarts and vegan bourbon banana bread for Seabirds Kitchen at the Lab in Costa Mesa.
She's a stickler for practicing until perfect. And says the secret for her baking success is really just, "practice, practice, practice." She understands the chemistry of baking and the roles each ingredients play when you add them together.
"I am a science nerd at heart and I am always fascinated by the science" says Nguyen. She considers herself a cookie baker first, even though she's known for her unreal cakes with designs that look too good to eat.
"Cakes allow me to be more artistic while cookies allow me to get creative in a culinary sense," says Nguyen. "I've been baking a lot of bourbon brown butter chocolate chip cookies lately but I'm also known for my "Chip Chip" cookies which has several types of chocolate chips, coconut and potato chips! Yes, potato chips. It's pretty addicting. Just ask all my friends."
She's all about taking a tried and true cookie or cake recipe and experimenting with it. "I see nothing wrong with taking a good cake or cookie recipe and adding your own little twists to it."
Nguyen has a handful of bakery idols that inspire her, including pastry chef Duff Goldman's artistic vision for each cake; she admires Elisa Strauss of Confetti Cakes for her cookbooks and sculpted cakes; and she dreams of being as skilled as Thomas Keller of Bouchon and Tom Douglas of Dahlia's Lounge and Bakery in Seattle. In the culinary world, she loves celebrity Chef Chuck Hughes and Chef Erick Greenspan of Grilled Cheese on Melrose in Los Angeles.
Nguyen just baked a "Miami Vice" inspired birthday cake for one of my loved ones and we were thrilled with the results. You can contact her for a custom baking request, too.
Grace of Cakes at grace@graceofcakes.com or call/text at 714.425.6291.
---
More Daily Doses