Greer's Daily Dose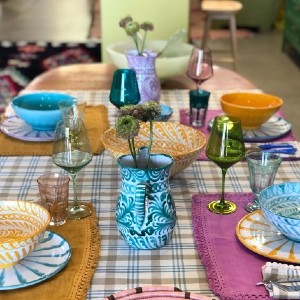 Live a Colorful Life at Rococo Home
05.17.21
Patty Praisler, owner of Rococo, a popular lifestyle apparel boutique in Costa Mesa and Dana Point just opened a new concept, Rococo Home next door to her Costa Mesa location.
"I wanted a funkier more colorful vibe. Being in Los Angeles so much I found Orange County to be all the same and there was a void," said Patty. "The items we carry I personally have in my home and love. Color is huge in fashion and is wonderful in the home."
Patty sourced products directly from Italy, Spain, and Morocco. You can set your summer table with happy colors and vibes with Lateral Objects colored gradient glass, Estelle colored glass, Kantha placemats, woven baskets from Kenya, and Chan Luu linens.
At Rococo Home, you can also find Spako pottery, handpainted Pomelo Casa from Spain, Memento Synth durable BPA free, and dishwasher safe glasses, Lily Juliet salad tongs, Glow Votive, Voyage et Cie candles, travel coffee table books, and fun throw pillows.
There is something for everyone at Rococo Home and it's a great home store to find gifts that you won't see everywhere else.
You can also follow ShopRococo on Instagram for daily posts of what they have in store.
369 East 17th in Costa Mesa. 949.287.6749.

---
More Daily Doses